I recently turned 40, still feeling a lot like I'm twelve, or as Margaret Atwood said, "I believe everyone else my age is an adult, whereas I am merely in disguise."
One of the benefits to being self-employed is that I have a lot of freedom over how I spend my birthday. A few years ago, I gave myself permission to create my ULTIMATE DAY. Now, with rare exception, here is what a perfect birthday looks like in my life.
I spend a big chunk of it…alone. I start the day in prayer, journaling and thinking about the years that have flown by and the ones around the corner. I often buy some new music for myself, a little soundtrack for my day as I travel about. (This year: Brand New by Ben Rector. So good.) I visit an art museum to get inspired. I eat lunch by myself, accompanied by my favorite magazine. (Mental_Floss) I'll spend a few hours in a bookstore, perusing tomes on art, business, faith and Star Wars. Throughout the day, I check in on birthday messages that have come in through various channels. I like the acknowledgement, but I don't want to spend the day talking to people.
It's not that I'm anti-people. Since I'm the type of person who likes saving the best for last, I end the day with Kim and the kids. I head home for supper, where Kim has made the dinner and dessert of my choice (usually beef stroganoff and cherry pie). After dinner, we often watch a movie together. (This year I was hoping for The Good Dinosaur or the Peanuts movie, but they weren't out yet, so we settled on the Lego Movie, which I hadn't seen in a while and is just fantastic.) These days, highlights are always the little gifts made for me by my kids.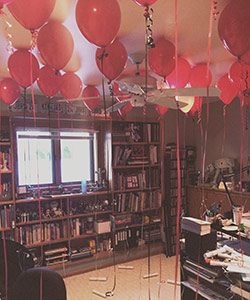 This year, since it was my 40th, Kim added a few neat surprises. She snuck 40 red balloons into my office, and each one had a note from a good friend or family member. I was not expecting that, and it was easily the best part of the day, reading all the ways I have impacted people throughout the years. Kim also booked me an hour-long hot stone massage, which I've decided will henceforth be added to the regular routine!
So here's the confession: I sometimes feel embarrassed sharing my ideal birthday. It looks kind of weird compared to what most people might expect or want. I assume people will think it's depressing to spend most of your day alone. And I worry that I'll disappoint the people who imagine me engaged in epic water balloon fights, whacking a piñata, or eating ice cream all day.
But whatever.
I do think it's worth sharing, not to suggest that THIS is the way you should celebrate YOUR birthday, but simply to remind you that you should celebrate your birthday the way you want to.
Come to think of it, the same is true of your life.
Neither birthdays nor lives should be wasted conforming to someone else's expectation of what they "should" look like.
You, my friend, are a one of a kind. Choose your own adventure.
What's your favorite weird birthday tradition?