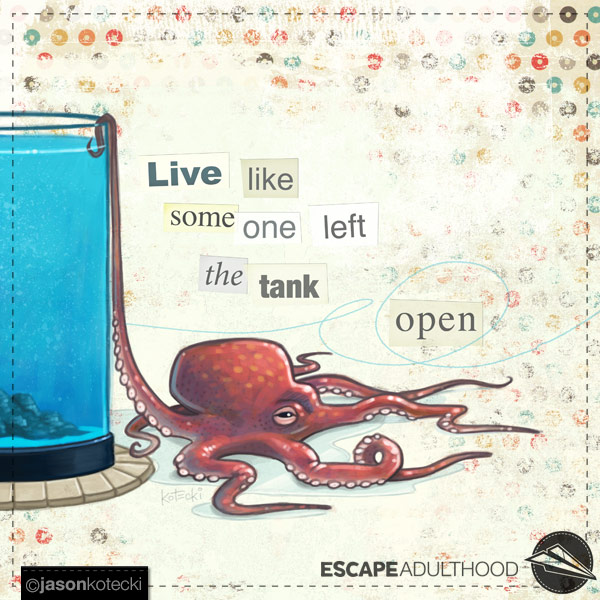 Perhaps instead of a paper airplane, our logo should feature an octopus. Apparently, they are fantastic Escape Artists.
My friend Sara, an Escape Artist in her own right, recently shared an article about a daring nighttime escape from a New Zealand Aquarium by an octopus named Inky.
After busting through an enclosure, the nimble contortionist appears to have quietly crossed the floor, slithered through a narrow drain hole about six inches in diameter and jumped into the sea. Then he disappeared.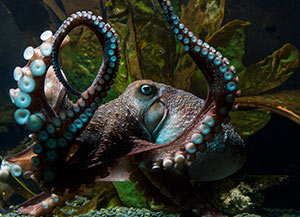 Pretty neat story, but I'm interested in Blotchy. Mentioned only once in the article, Blotchy was the tank-mate of Inky, described as the "less independence-minded octopus" who remained behind.
Why didn't he join Inky on the breakout?
Clearly, the adventure was not without peril. What if he doesn't make it to the drain? What if he can't find food? What if he gets eaten by a shark?
Meanwhile, Blotchy was (and continues to be) free from danger and enjoys free shelter, free food, and free medical care. He's got a lot of things going for him, but at the end of the day, he's still in a tank.
Turns out the only thing not free is Blotchy himself.
The marine biologists in the story were not particularly surprised that Inky escaped, because octopuses are known for their strength, dexterity and intelligence. But a human wrote the story, and made Inky the headline. After all, what Blotchy did isn't news. He did what most people do.
Humans strongly prefer avoiding losses to acquiring gains. It's easy to stay put, especially when things have become safe and comfortable, even if it means ignoring the true nature of who we were created to be.
In our preference to avoid losing what we have, we are actually losing something even more valuable: opportunity.
"Twenty years from now you will be more disappointed by the things you didn't do than by the ones you did do. So throw off the bowlines. Sail away from the safe harbor. Catch the trade winds in your sails. Explore. Dream. Discover." –Mark Twain
No doubt about it. Inky took a big risk. But now he is free.
Meanwhile, I can't help but imagine Blotchy spending every day wondering…"What if?"
Is it time to make your move?