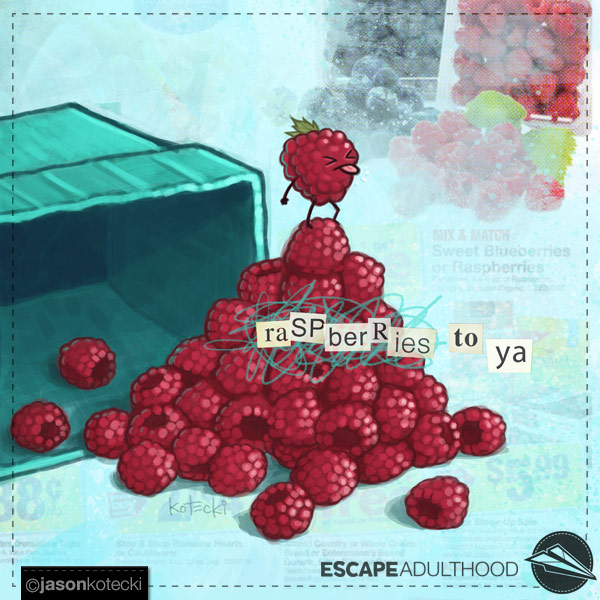 My grandmother made German cookies called lebkuchen, referred to her couch as a davenport, and hated when her grandkids wore their hats backwards. "Makes you look like hooligans," she'd say. She was also famous for saying, "Raspberries to ya!" I'm pretty sure this witty comeback was a polite (yet colorful) alternative to saying "screw you."
So that's where this art came from, painted on the top of a grocery store flyer.
At first glance, it appears to be a negative departure from my more optimistic work. But it's only really negative in a certain context.
There comes a point in our lives where rolling with the punches doesn't cut it. Sometimes you need to punch back. Not always in a literal sense, of course, but in a way that shows the world the strength that lies within you and that you're not backing down.
To all of the setbacks you've experienced on this long road: Raspberries to ya.
To that mountain of debt that's enslaved you long enough: Raspberries to ya.
To that idiot boss and the soul-crushing job you never liked anyway: Raspberries to ya.
To the doubters who said you'll never make it: Raspberries to ya.
To the cynics who swear it can't be done: Raspberries to ya.
To the critics who've never even stepped foot in the arena: Raspberries to ya.
To Adultitis, its unadventurous version of adulthood, and all its stupid rules: Raspberries to ya.
When used in reply to setbacks and cynics, curmudgeons and critics, this little piece of artwork suddenly becomes downright empowering.
Keep fighting.