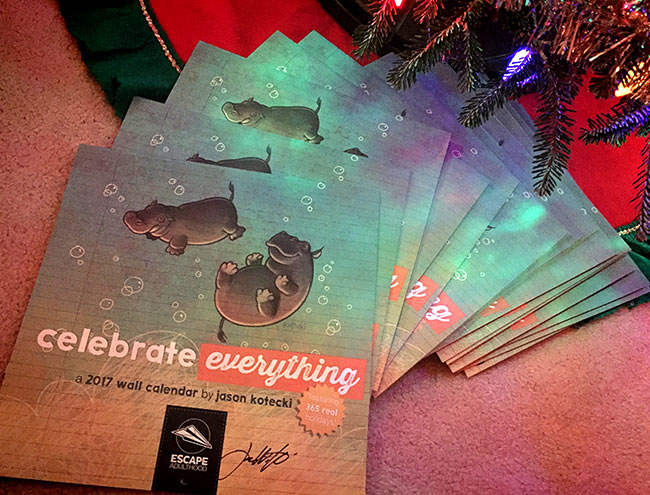 We've all been there. You might be there right now: trying to find a gift for the person who has everything, or the person for whom you want to do something really special, or the person you don't really know that well, or the person you really don't like but still have an obligation to get something for. If this strikes a chord, please keep reading, because your day is about to be MADE:
• Step 1: Buy a gorgeous 2017 Celebrate Everything wall calendar. It's the one that features super fun art and 365 real holidays, like National Chocolate Chip Day, One Hit Wonder Day, and National Yo-Yo Day.
• Step 2: Use the calendar to figure out what holiday your recipient's birthday lands on. People love this part.
• Step 3: Buy something related to that holiday that will help them celebrate it properly. It could be a gag gift from the Dollar Store or something actually, you know, nice. (A family gift might contain a different item for each person's birthday.)
• Step 4: Bask in the satisfaction that comes from scoring a unique, super thoughtful, personalized gift that will make the recipient look fondly upon you all year long.
The calendars are limited edition, signed by the artist, and beautifully printed in the USA. And we have some sweet bulk pricing in case you want to get your gift buying done in one fell swoop!
Get them here: http://EscapeAdulthood.com/calendar
* * * EPIC BONUS IDEA! * * *
Our friend Heather picked out some of her favorite days from the calendar (one per month) and wrote them down in a card…
…then put together this neat gift basket featuring goodies designed to enhance each day. She reported that it was so simple…Amazon & Target. It cost less than $75 per family (including the calendar)!
And with that, Heather has every right to drop the mic and walk right into the Christmas Gift Giving Hall of Fame.
Cure your gift buying blues right here.