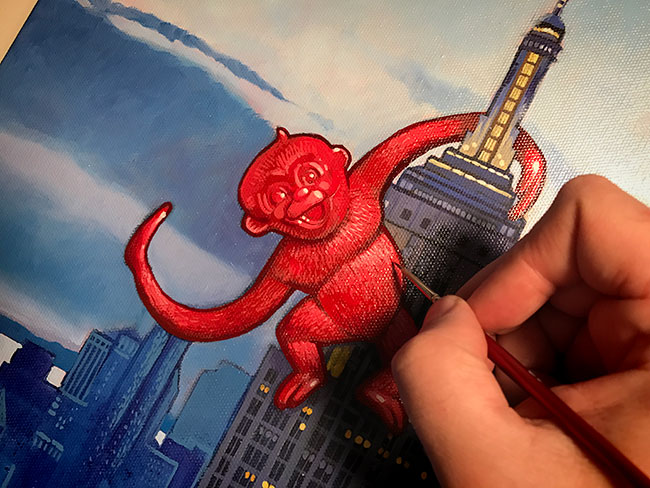 This is a snapshot of a painting I'm working on. I'm happy with how this little guy is turning out, because it was touch-and-go for a while.
There comes a time in every painting (at least mine) where I think, "Omigosh this is a terrible hot pile of garbage. This painting is unsalvageable. I have used up any art talent I had and am completely out of my league." But instead of retreating to a bag of Cool Ranch Doritos, I persist, while every fiber of my being insists that I am playing the fool. More times than not, a little patience and a little persistence carries me to the other side, when I stand back, smile, and can proudly say, "Wow. I did that."
When you're trying to accomplish something worthwhile that you've never done before, you will likely encounter something similar.
Going back to school after years away from the lectures and homework…and wondering if your brain will be able to keep up.
Making a big transistion to a new job or department with an increased level of responsibility…and wondering if you'll be discovered as a fraud.
Becoming a real-live parent for the first time…and wondering if you're really grown-up for this immense responsibility.
You'll run into similar thoughts: "Omigosh, I am entirely in over my head. I can't do this. I'm going to be exposed as a total fraud and plummet into a flaming dumpster fire of failure."
In every one of these instances, you should remember that although success isn't guaranteed, neither is failure. Pause. Take a deep breath. Start taking baby steps. (Like literal baby steps, complete with all of the wobbly, uncertain awkwardness.)
The fact that you feel out of your league means you're doing something that will make you grow. If I am making a painting that doesn't come with any twinges of doubt or discomfort, it means I'm mailing it in and not really challenging myself. Which doesn't make for very interesting art. Mailing it in doesn't make for a very interesting life, either.
So keep going. Slowly but surely, you will figure things out. You'll make tiny bits of progress. Most importantly, you'll be ok.
You — yes YOU (who else did you think I was writing this for?) — are capable of more than you give yourself credit for. WAY more.
Keep persisting, focused on forward progress, and there's a very good chance that before too long, you'll find yourself at a point where you can stand back, smile, and proudly say, "Wow. I did it!"