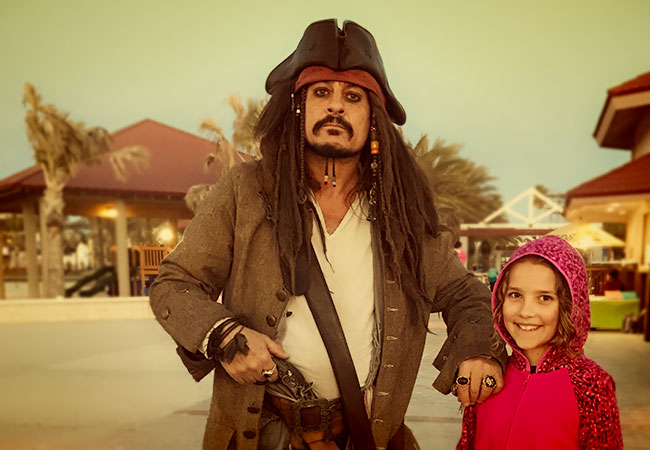 We recently spent two weeks in Florida and the best lesson I learned came from a pirate.
Or at least a dude dressed up like one.
We encountered "Captain Jack" at Pier 60 on Clearwater Beach. We thought it would be fun to stop for a photo. It was a windy night and the crowd was light, so he spent quite a bit of time with us, engaging with the kids and regaling them with advice.
"What's yer name, princess?" he asked my oldest.
"Lucy," she replied.
"How old er ya?"
"Eight."
"Lucy, I'm gonna tell ya something. Don't be like those 'messarounds' in school, the ones who dern't pay attention and dern't study.
"Ya got sixteen years of school, which seems like a long time, but it's really not. If ya study hard and git smart, I'll predict ye'll be captain by forty-one. Ya know, of the police department. 'Cause yer have ta be smart ter become captain – they won't hire the messarounds. Then maybe ye'll retire when yer fifty-five. By the time yer seventy-five, you've been retired fer twenty years, which is longer than sixteen! Meanwhile, the messaround is still workin' and drops dead flippin' burgers. Hopefully he doesn't do it while he's flippin' yers."
He was a colorful chap.
But he was also right. Sixteen years is a small period of time in the context of a typical lifespan. But it can make such an impact on your entire life.
Of course, this lesson applies to so much more than school. It's easy to focus on the short term inconvenience, completely forgetting the long-term payoff.
Maybe you're in that zone right now, wondering if all this effort matters, especially when everyone else seems to be taking it easy. You can't help but wonder if maybe you're the fool. But all those times spent working out, practicing your craft, or putting in the long hours to earn that degree add up. Keep going. Don't give up.
Tomorrow's big treasure will make today's investment seem small.
Thanks for the reminder, Captain Jack.