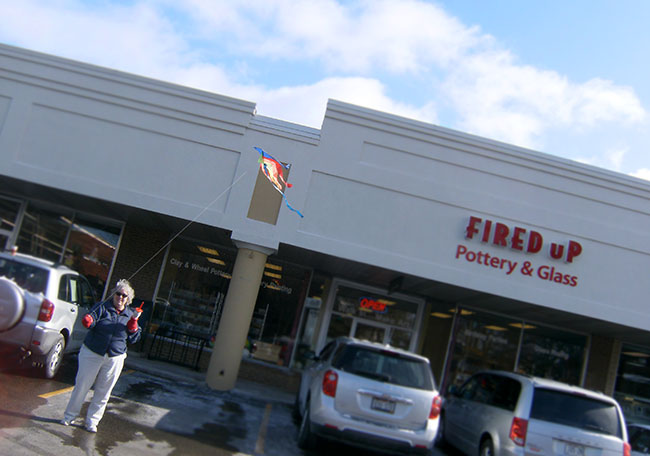 An Adultitis Fighter is someone who rallies against rules that don't exist and engages in ruthless, senseless acts of silliness that undermine Adultitis and its unadventurous version of adulthood. Once a month, we shine a light upon the most remarkable among us, holding them up as a dazzling example of what we should strive for in this epic battle against a formidable enemy.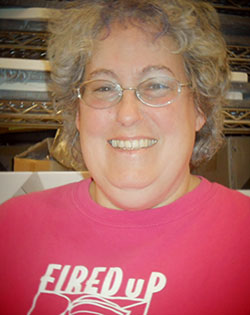 Kim Stanfill-McMillan is our February honoree because she is a Queen of Intentionality. She stayed in touch with her inner child, ultimately living out her childhood declaration of being a potter.
When she was 14 years old, she looked at the adults around her and realized that she didn't want to live that way. She made a conscious decision to stay young at heart. She recalls this moment with a fond perspective.
Kim has also intentionally simplified her life (such as minimizing stuff and financial commitments) that allow her the freedom to live on less, and giving her more time and money for travel.
"Live joyously. I can make another dollar, but I can't get an hour of my life back." -Kim Stanfill McMillan
Meanwhile, as the owner of a small "heart-centered" pottery studio, she utilizes creative managerial strategies, such regular "micro raises" for her employees. These may be as little as a few cents an hour, but they have the powerful effect of creating forward momentum and giving a sense of continuous growth. She also empowers and invites employees to take ownership of the space and test out changes as they see needs and get ideas. The goal is consistent improvement, regardless of where the bright ideas come from.
You can't fight Adultitis absent-mindedly. Its favorite victims are those who go with the flow, doing things the way they are "supposed" to be done. Kim is a quintessential example of someone who consciously decided what she wanted her life to look like, and followed through with action to make it so, one step at a time.
In recognition of their efforts, Adultitis Fighters of the Month receive a special mini-canvas hand-painted by Jason, along with a certificate of honor, a sweet patch, and other Adultitis-Fighting tools. We asked Kim some questions about how she fights the Big A and what advice she has for others…
* * * * *
What are some of your favorite ways to fight Adultitis?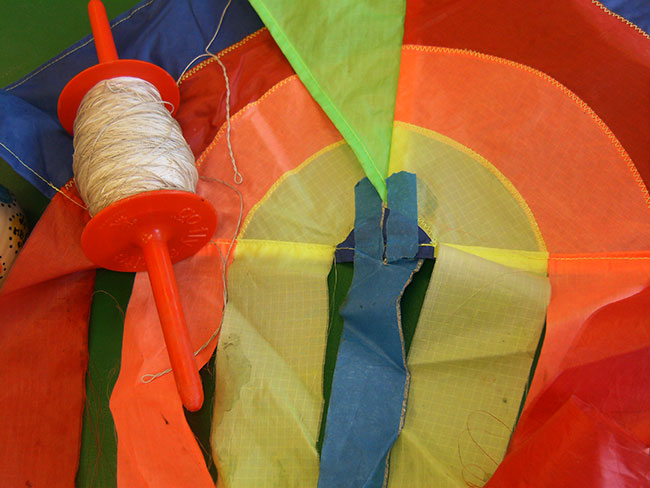 I have a kite in my car, all year long. It folds up very small, and flies well. It seemed that I was always somewhere out and about and it would be windy, and there was a great place to fly a kite, only my kite was at home…so now it stays in the car 365 days of the year. The string is 1500 feet long, and takes me 20 minutes to wind back up. The only time I have had it out all the way is over the ocean, with the wind going from the beach to the water. I love when kids in a park see the kite and come over. I teach them how to fly it, and for many it is their first time, and it is magical.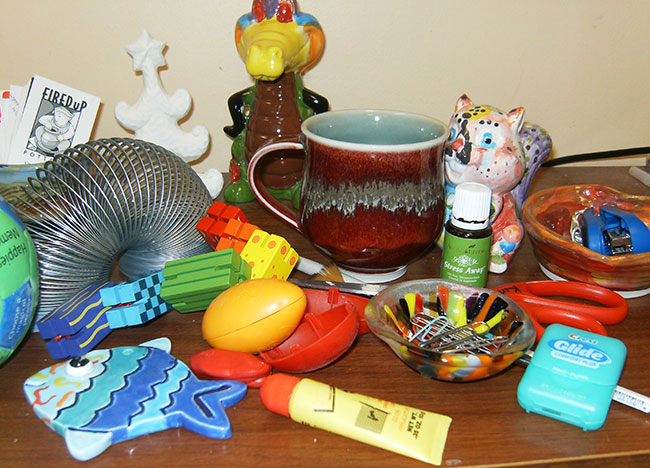 I also keep some fun stuff I keep on my desk. It's in the back of the store hidden from sight, so these toys don't bother anyone. The alligator and cat were never picked up from the store, and it didn't seem right to toss them, so I gave them a home. The silly putty (one is glow in the dark) and the Slinky remind me of my childhood. I become 8 years old when I have my Slinky in my hands. (I think I ruined one each Christmas for years playing "let's see how far we can stretch this." THAT GAME is played ONCE.) The mug is by a potter I admire. The unpainted tree was made by a friend who got leukemia and passed away and this was one of the last things she made. The dental floss is there because when I think hard, I floss my teeth. (At least my dental hygienist is happy!) These small items connect me with my life, and they make me happy to see them each day. If you had to keep a pristine desk, you could have a collection like this in the pen drawer so when you wrote with a pen you could glance down and see things you like. It's all about the small moments of the day.
Who or what has been the greatest influence in your own fight against Adultitis?
Thoreau, when he chose to "go to the woods and live simply." It's sad that until I met you both, no one I knew thought living like this would be a good idea.
What is something you loved doing as a child that you still do in some form today?
Ask me something hard. I saw a potter in 1964 at the World's Fair when I was 5 years old, and thought "I want to do that someday." (I'm 58 years old now). I took a 14-year detour as an engineer, and now I have a pottery studio. Sometimes you just have to take the long road to get to where you want to be.
What is your strategy for dealing with people who are obviously infected with Adultitis?
This is hard. So many people tell me that I have such a zest for living, and what do I do, and when I tell them about strategies for living a "smaller" life, they just can't seem to wrap their head around it.
[ Note from Jason: Intrigued about these strategies for living small, we asked Kim to share some of them, which we've included here. ]
Tip 1 for a Smaller Life: Buying "stuff" not only costs the money to buy that item, but along with it comes caring for that item for 5, 10 15, 20 years. Sure it's a great book, pretty vase, pair of shoes, or cooking appliance, but now that you own it you have to store it, dust around it, worry about losing and breaking it, remember who gave it to you, and find it when you need it. And maybe you have to buy a new book case to hold all your "stuff." I try to wait three days before buying anything, or borrow it from a neighbor. Reducing clutter starts with not bringing it home.
Tip 2: Clean just one drawer in your house. Suddenly you can close the drawer and know what's in it. My mom, who is 88, said that when she downsized from a house to a one-bedroom apartment, for the first time she knew where everything was. Because she went through it all, and those items that she kept needed an organized home. It really does free your mind. But be careful! One drawer can turn into a organized room, which can lead to an organized home.
Tip 3: People forget that the "three R's" are REDUCE, REUSE, RECYCLE. Most of us recycle. But what if you said no to that toy from the fast food restaurant? Or no to the souvenir cup? By reducing what you consume, you will be reducing your clutter and your carbon footprint. I had three kids (they are 18, 20 and 21 now), and I could fill a kitchen wastebasket with plastic items that were just lying around the house. Secondly, reuse. Go to secondhand stores and reuse items, or donate yours.
Tip 4: This one is not for everyone, but consider living with an older car, or a smaller house if you can. One day I was looking around my average house and realized that I only used about 1/4 of the house. We had a dining room, living room, TV room, 3 bedrooms, 2 baths and a basement. I used one seat in the TV room, one seat in the dining room, and never used the living room. When the kids are out of the house, would it make sense to move to a small two-bedroom apartment? My house electricity bill was about $200 a month. In a small apartment it would be about $40. What could you then do with the extra $160 a month?
What advice do you have for someone who is feeling overwhelmed by Adultitis?
Buy a kite and keep it in your car. You would be surprised how 10 minutes of kite flying will make you feel. Leave for an errand 10 minutes early so you can stop and take a photograph, or listen to the spring peepers for 5 minutes, or let another person go in front of you in the coffee shop line. Letting someone go ahead of you in line is super fun to do! Just tell them "I'm not in a hurry, you go first." They look at you with this amazing look. You'd think I offered them a $20 dollar bill.
Anything else you'd like to share?
Join in on the fun, and go for the ride. These are memories I want to have when I'm 85 and in a wheelchair in a retirement home. It is about the little stuff. Live joyously. I can make another dollar, but I can't get an hour of my life back.
* * * * *
Congrats to Kim Stanfill-McMillan, February 2017 Adultitis Fighter of the Month. Thank you for making the world more awesome!