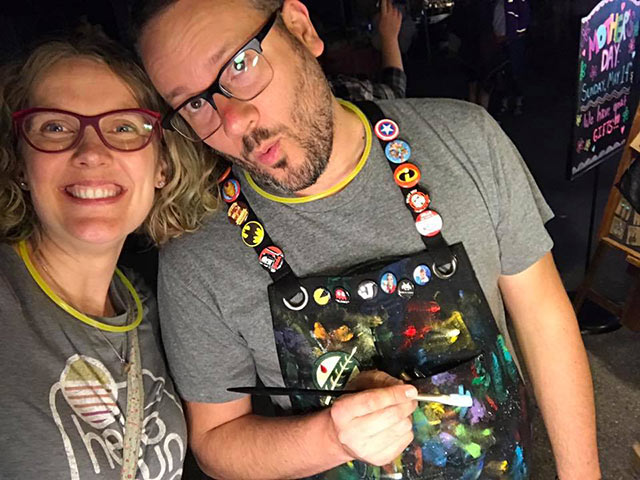 Last week we had the opportunity to participate in the first-ever Madison Night Market, which is a celebration of Madison's unique and inspiring creative culture. It features handmade products, local art, artisan gifts, food carts, and live music.
Little Luxuries, which is regularly voted as the best gift shop in Madison, carries some of our stuff. When Amy Moore, the owner, invited us to be a part of her store's booth, we jumped at the chance! It was the first time I'd be showing my new art in a public forum and I was excited (and a little nervous) for the opportunity to see people's reaction firsthand.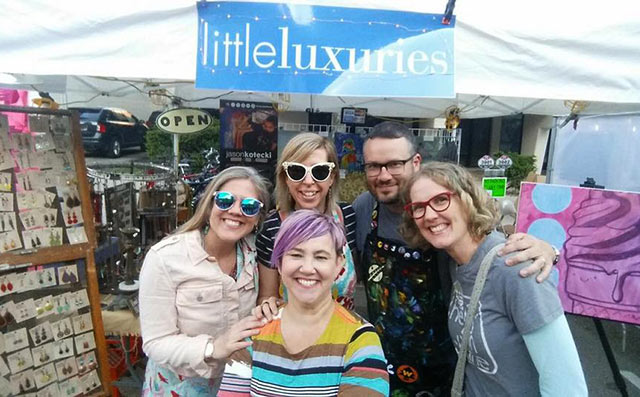 We got to share the booth with Tami Reschke, owner of purple hair and jewelry maker extraordinaire. We complimented each other well, and Kim traded Tami some Bee Optimistic t-shirts for some sweet new necklaces.
A few weeks earlier, I did a mock-up of our display in our garage, using some grid wall panels and accessories we had from our days doing gift shows. I was pretty happy with how it all turned out, with a nice combination of original art, canvas giclées, and matted prints, along with t-shirts, greeting cards, and our new Holy Guacamole pins.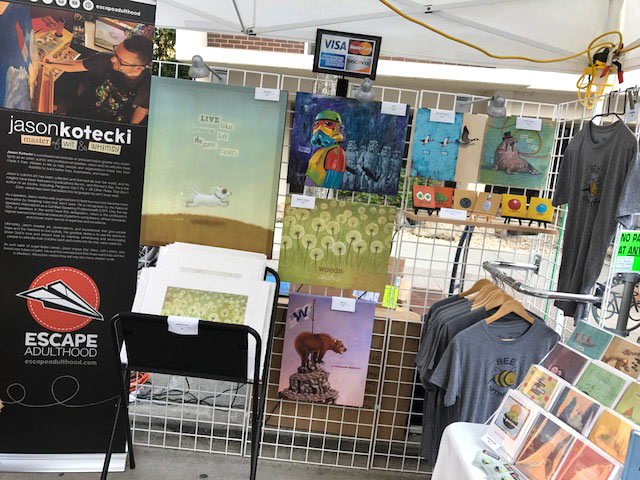 Rain threatened early, but it turned out to be a beautiful night that brought out a big crowd.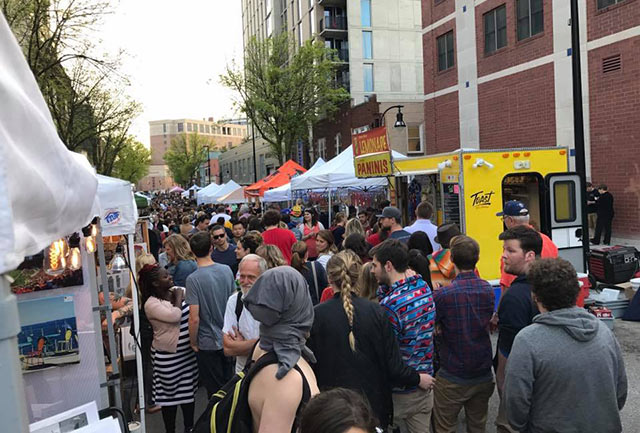 My book agent Michelle stopped by with some of her family…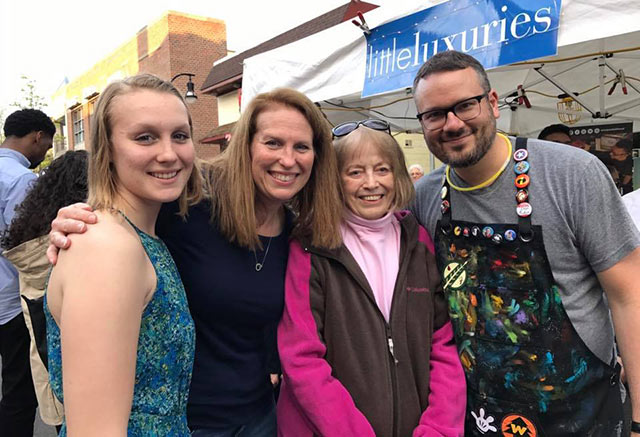 …and I had a little mini Escape Adulthood Summit reunion with Amy and Sarah, two past attendees.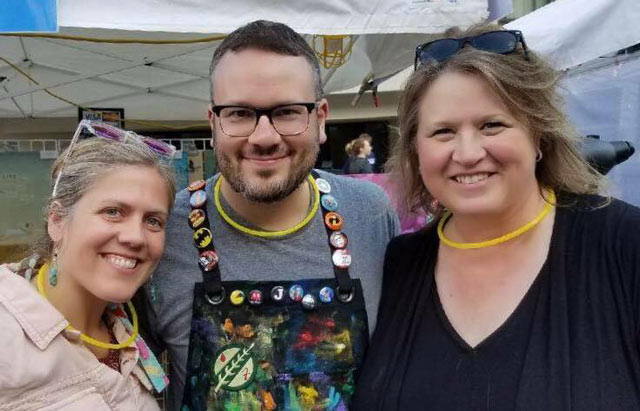 We wanted to add something dynamic to our booth to draw people in, so I decided to do some live painting. It was the first time I'd ever done an easel painting in public, and with oil paint to boot, a medium I've only been dabbling with for about six months. I guess the "trick" worked, because it caused a lot of people to stop and we even ended up on a couple different newscasts!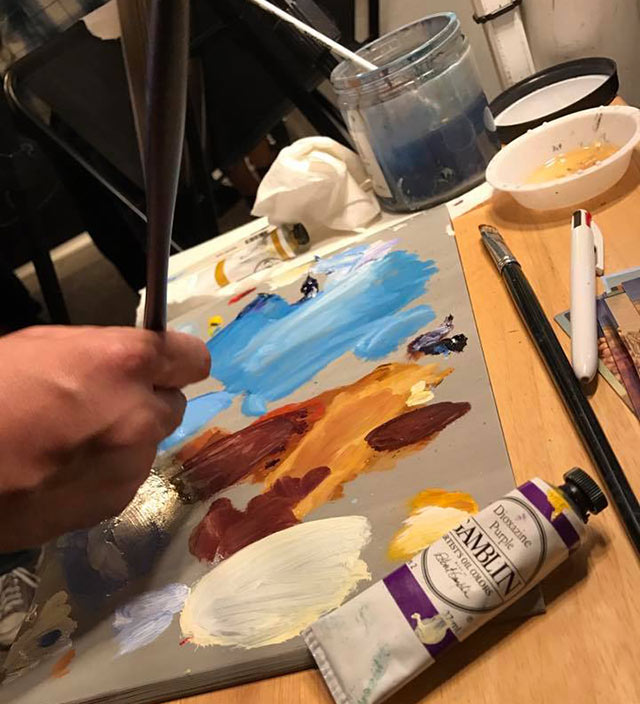 I was excited to show off some new additions to my painting apron: some buttons and iron-on patches I'd picked up on a recent trip to Seattle. My favorite one is a Boba Fett insignia that I put on my chest, just like the bounty hunter himself.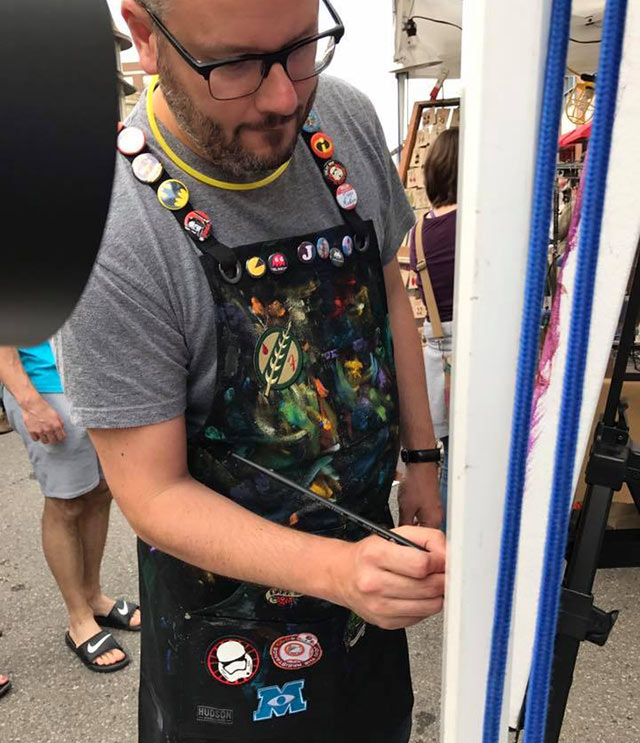 The best part was chatting with the people who came by, especially kids. I specifically picked a subject to paint that wasn't very complicated so I could take my time and be present with people who stopped to watch.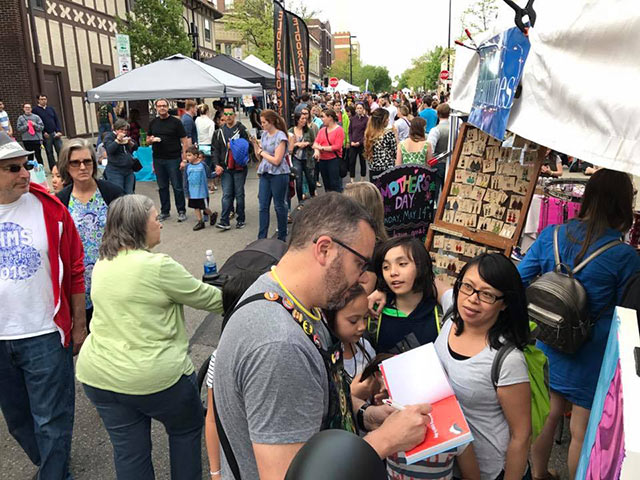 The real magic happened when the sun went down and the lights went on. It was such a cool vibe painting in that environment, and getting to see which pieces resonated with folks.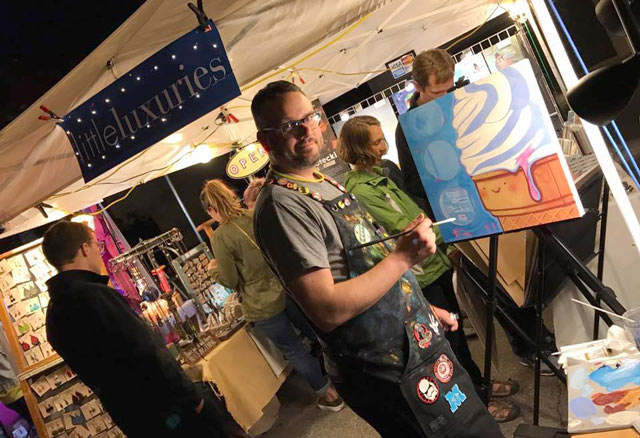 I wasn't sure if we'd sell one thing, but we ended up moving lots of everything, including a large canvas just before closing time at 11 pm.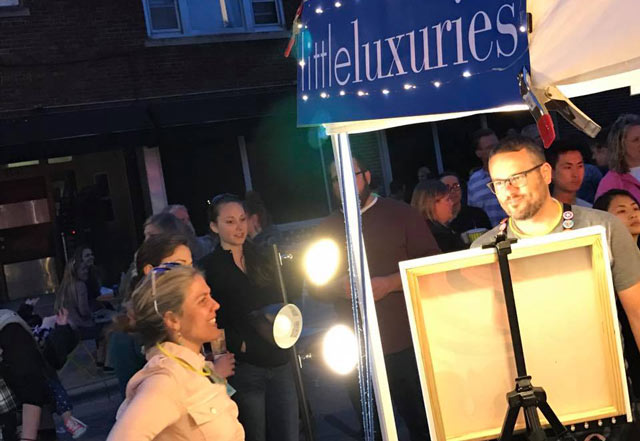 Our friend and colleague Jenna was on kid duty that night so Kim and I could focus on the tasks at hand, but they stopped by for a visit and somehow managed to score some ice cream.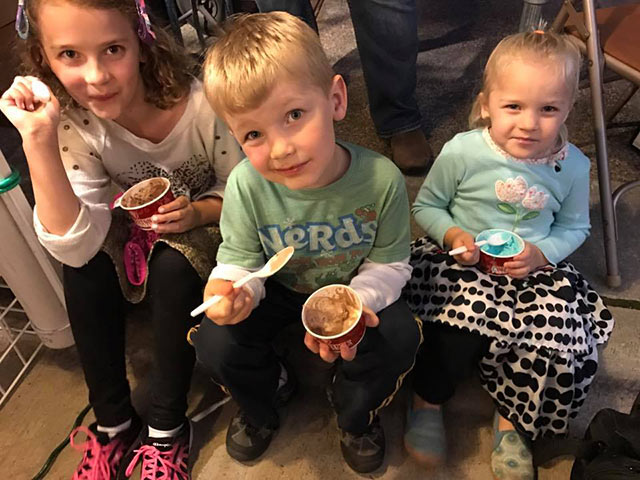 All in all, it was such a great night, and I'm so happy we decided to tinker by trying it out. There are two more installments of the Madison Night Market yet to come, and we'll be on hand for both! Come see us on June 8 and July 13, 2017, from 6pm – 11pm where State Street meets Gilman Street!