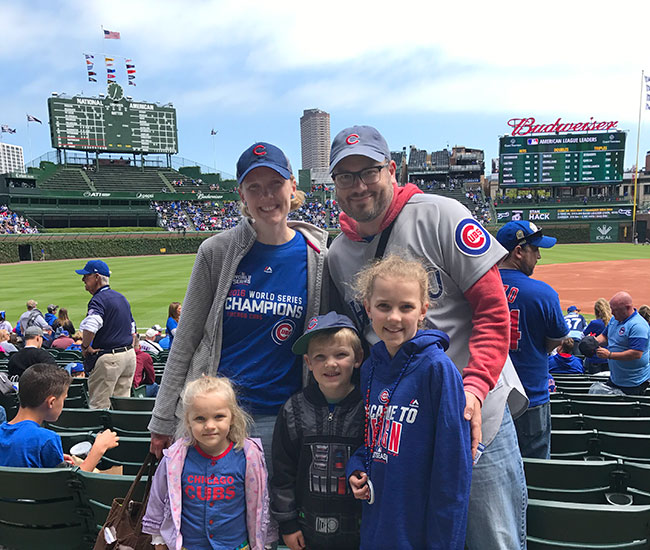 Kim and I recently took the kids to their first Cubs game. It was a beautiful day, Wrigley Field was as friendly as usual, and we reveled in singing "Go Cubs, Go" after they sealed the win against the Giants.
We often see first times coming. We prepare for them and anticipate them with the excitement of a little kid on Christmas Eve.
The last times have a habit of sneaking up on us, though.
We have a digital frame in our kitchen that rotates old family photographs. I find myself regularly spying an old snapshot of one of my kids and thinking to myself, "She was never that little, was she?" As of this writing, my oldest is only eight, but the pictures feel a century old.
The other day, Kim commented on a photo of our son when we was an infant. "Some days," she said, "I'd give just about anything to hold that little baby one more time." I agreed.
It occurred to me that although I held that little baby many times — often in a sleep-deprived and grouchy state — there was also a last time. I'm sure I didn't even realize it when it happened. Most of the time, last times come and go without even a whisper.
But what if you knew the numbers? Would that change anything?
You have 5 dinners left with both of your parents. BOOM. Perhaps that would nudge you to do everything in your power to see them more… and to savor your time with them, asking them questions you've always wondered, so there are no regrets.
You will celebrate 4 more anniversaries with your spouse.
You have 3 more summer vacations left with your family.
You have 2 more fishing excursions with your grandkids.
You have 1 more time to see your son in that adorable little outfit.
You can't stop time, but you can at least pause to enjoy the moment before it races by and transforms into a foggy memory from someone else's life.
There's no real way to know these numbers exactly. But it's safe to say that they're probably a lot smaller than you think.
Live accordingly.