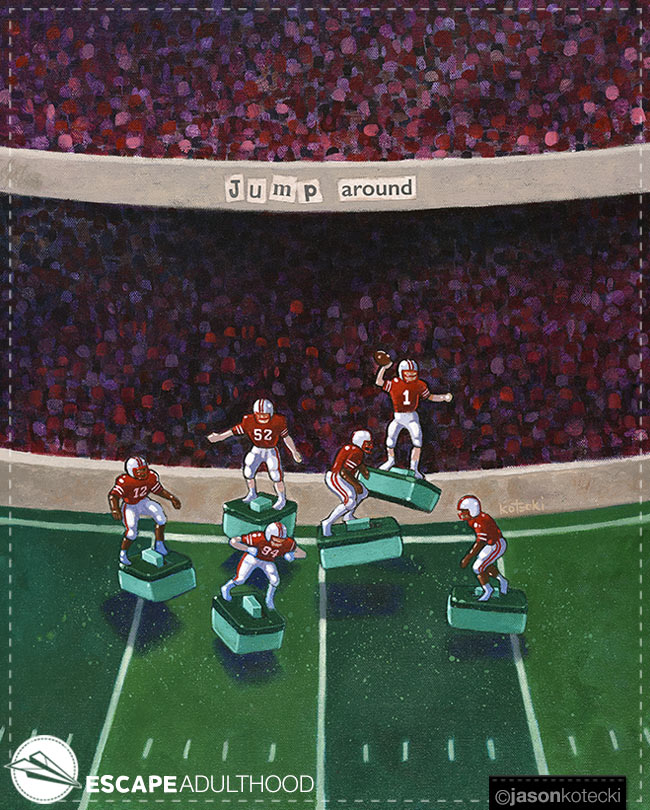 This painting was inspired by a tradition that Badger fans have at University of Wisconsin football games. Between the third and fourth quarters, the song "Jump Around" is boomed through the loudspeakers and all of the red-clad fans do exactly that.
It reminded me of those old electronic football games in which tiny plastic athletes buzzed around on an green metal field. Readers of a certain age will know exactly what I'm talking about, and this painting will bring back all sorts of memories.
For the of you who don't know what I'm talking about, well, I guess you had to be there.
With football season now upon us, I am reminded of a cool idea the leader of an insurance agency shared with me at one of my speaking programs. During pigskin season, he allows his employees to wear jeans and the jersey of their favorite college or pro team. (He even buys the jersey as a welcome aboard present!) Then, if their team wins over the weekend, they can wear it again on Monday. He reports that those days are always the most light-hearted and energized.
Even if you work in an environment where jerseys wouldn't be appropriate, perhaps everyone could represent their favorite team with a necktie, lapel pin, socks, or coffee mug.
I think it's worth figuring something out, because this sounds like a pretty good way to keep a team buzzing to me.