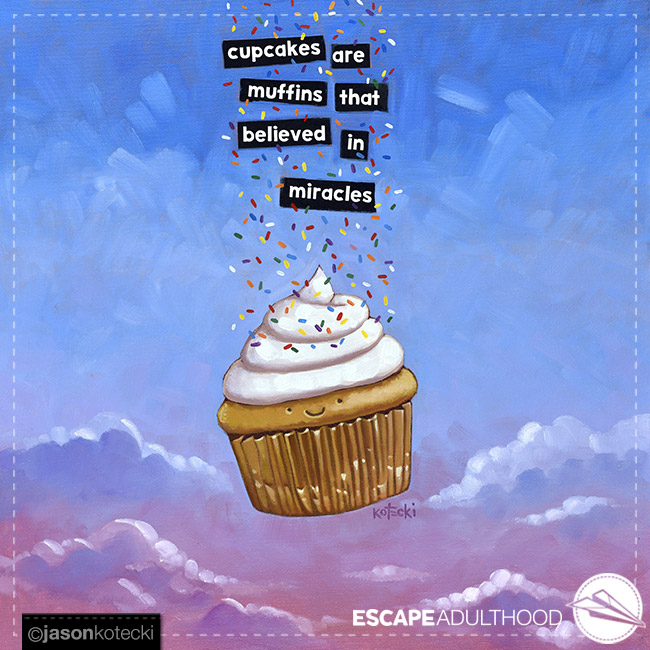 I've wanted to be an artist for as long as I can remember. Especially after I found out that the roles of being George Lucas or Superman were already taken.
Like most artists, I started out making "copies." I drew Simpsons characters and portraits of athletes and celebrities. It was how I learned my craft. As Elizabeth Gilbert wrote, "Everybody imitates before they can innovate.
My first real attempt at saying something original was through comics. First a sports panel cartoon I did in college called Obstructed View, then a comic strip called Kim & Jason. I became inspired by people like Charles Schulz (Peanuts) and Sam Butcher (Precious Moments), and I decided that I wanted to use my art to make a difference.
I was convinced that Kim & Jason was the way I was destined to do that. I had big dreams and we worked really hard to make it successful. Undeterred by the scores of syndicate rejections, we tried self-syndication. Craft fairs. Gift shows. Fundraising programs. Some things were moderately successful. Most things failed epically. It never earned enough to live on, and Kim and I had many sleepless nights and tear-filled discussions wondering if we were crazy.
Eventually my experience making a comic strip led me to doing cartooning workshops in schools, which led to speaking at churches, which led to the speaking I now do for associations and companies.
Speaking became more financially successful than Kim & Jason ever was, and eventually, I became so busy that, after seven years of making a daily comic, I decided to retire the strip.
Although Kim & Jason inspired many people and generated lots of smiles and laughter, it was hard to not think of my art as a total failure. As my speaking career took off, I put the "art thing" in the closet. I figured my attempt to be an artist had failed, and decided to focus on more "valuable" things. Even though I used my creativity in many ways while growing the business, I pretty much stopped making art.
After several years of inactivity — I dramatically call it my "fallow period" — I started to feel the urge to make art again. Little by little, I began to create. I started feeling alive in a way I hadn't in a long time. So I kept going, eventually sharing it with others. People responded, not just to how it was made, but how it made them feel. And think.
I got a book deal with a big New York publisher largely because a literary agent saw some art that was shared by a friend of a friend on Facebook. In the design of that book, I marveled at the fact that 90% of the art in the book was created after my "fallow period." But the book also contained stories, comic strips and paintings from years earlier. It became a love letter to the things in my past that I thought were failures.
I finally realized that they weren't failures, they were the foundation.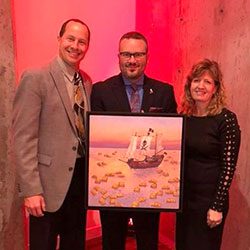 Earlier this month, we hosted Wondernite, a special art collecting event that featured my newest works, all of which were created in the last two years.
Ten years ago, when I made the tough decision to retire Kim & Jason, if you'd have told me that new art I'd create would help me land a book deal, and that we'd be able to pull off an event like Wondernite, fill it to capacity, and sell the majority of the original art I brought to sell, I wouldn't have believed you. I might have punched you in the face for being mean.
To me, how this journey ultimately unfolded feels very much like a miracle.
Miracles happen. I've seen them, in my own life and in the lives of others. Frustratingly, they are unpredictable and cannot be conjured up on demand.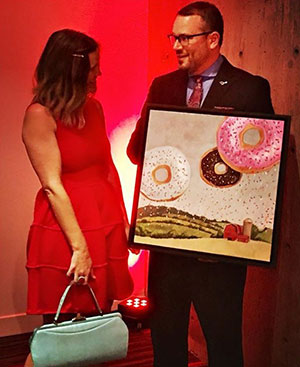 I have had my heart broken many times by dreams that didn't come true and miracles that never materialized. I have been tempted to give up, to quit dreaming and stop waiting for miracles. It seems easier. Less painful at least.
But I just can't.
I don't know why sometimes a miracle shows up while other times it doesn't. Maybe it's because what we get in return is even better in the long run. Maybe it's just random luck or something entirely.
Whatever it is, I can't shake the belief that it's still worth believing in them.
It seems like the people who see miracles are the ones who spend more time looking for them.