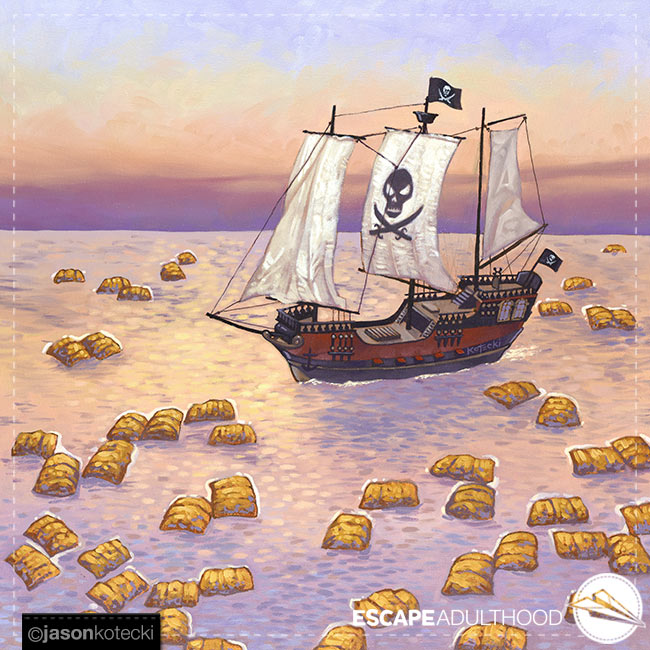 I present to you a painting I made of a pirate ship sailing in an ocean of milk amidst floating Cap'n Crunch cereal.
I thought long and hard about conjuring up some deep meaning on this one. Something that would make you shake your head in amazement and say, "Wow. He is a truly brilliant artist and thinker."
But you know what? There isn't any deep meaning. The truth is, I was thinking about Cap'n Crunch cereal, which I love, and thought about a tiny pirate ship sailing in a bowl of it, which would be neat. But then I thought, what if the ship was normal-sized and the whole ocean was milk and it had giant pieces of Cap'n Crunch floating in it? That would be weirder, and possibly neater.
So that's what I did: gave myself over to pure whimsy.
As we get older, Adultitis takes over and kills our whimsy. We grow increasingly skilled in the art of taking ourselves too seriously. And all that seems to bring us is anxiety, stress, and a life totally devoid of fun.
We've mastered the ability of making the trivial monumental. We fret about all sorts of things, from gas prices and elections to how we're going to kill those weeds in the yard and what we should wear to next Friday's function.
Becoming more responsible is one thing. But losing our sense of whimsy and taking ourselves too seriously is another.
I have long admired people like Dr. Seuss and Roald Dahl because they created magical characters and worlds that are so rich with whimsy. Their art depicts preposterous, physics-bending, imagination-stirring images and scenarios that exhibit a ridiculousness that is wholly original and entertaining. Meanwhile, within the context of their art, all of it comes across as completely normal. How did they do that?
It can be hard for me to give myself over to this pure, unadulterated nonsense, which I consider to be the unfiltered essence of the spirit of childhood. As someone who often errs on the side of practicality and reason, I have always wished I could be more like Dr. Seuss and Roald Dahl. After discovering Adultitis and its evil tricks early in my adult life, I have spent my life trying to get back to that level of creative abandon. Back to normal.
And yet here I am, having created a painting that exists at least within the same universe as those two greats, frustrated because I cannot come up with words to explain the meaning of this painting.
Because there isn't one.
And thankfully, I think to myself, "Well finally. Some progress."
It took a while to become an expert at taking yourself seriously, it will take a while to get back to normal. Give yourself permission to start.