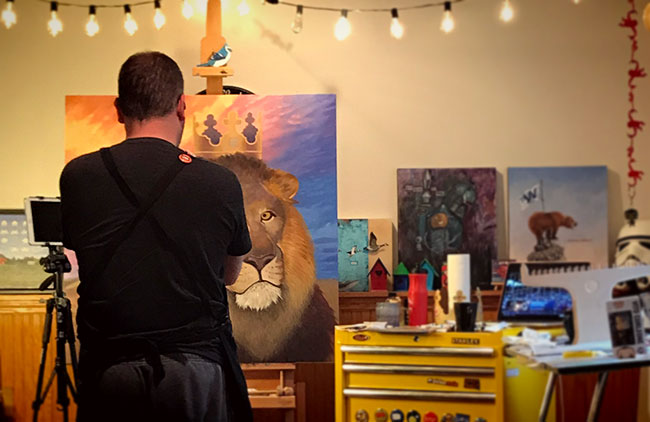 When I'm working on a painting, I have to step back from time to time. I have to literally stop the activity of painting and be still before the work. You might think it slows down the process. What it really does is help me make better paintings.
Otherwise, I can't see the painting through the brushstrokes.
If I don't step away every so often, I'm liable to get stuck overdoing part of the painting and end up ruining the whole thing. Giving myself some distance helps me notice things I can't see when I'm up close. I can examine the overall composition, the balance of color, and if the values are working well together. If I get a feeling that something's not quite right, stepping back and taking a look at the big picture can help me pinpoint the problem.
Sometimes, I simply step back to admire what I've created. One of my favorite parts of making art are the moments of pride I have when something turns out so well that I can hardly believe I did it.
The same is true of our lives. We need to take time every once in a while to step back and see what we're creating. Too often, we get stuck in survival mode, busily checking off one task after another, rarely coming up for a breather for fear that we'll fall farther behind.
Or worse, be faced with the realization that our efforts are misplaced and we've been focusing on the wrong things.
"Nothing is less productive than to make more efficient what should not be done at all." –Peter Drucker
This is exactly what Adultitis wants: For you to stay busy, distracted, and more likely to veer off course.
So if you get a sense that something about your life is not quite right, take some time to step away for a little bit. Go for a long walk, sit for an hour in a quiet church, or take a day off and unplug from technology.
Look for areas in your life that you might be neglecting, and for those that you might be spending too much time on. But also spend some time in gratitude for the blessings you have, and applaud yourself for the little things you've done well. Instead of focusing on where you fall short, appreciate how far you've come.
There is a reason every major world religion is so big on taking a Sabbath. Stopping might make you feel less productive. But what it really does is help you make life better.
If we busy ourselves with brushstrokes, we risk losing sight of the big picture.
Stopping to step back and examine our lives makes it less likely that we'll end up with a mess on our hands.
And more likely to create something spectacular.