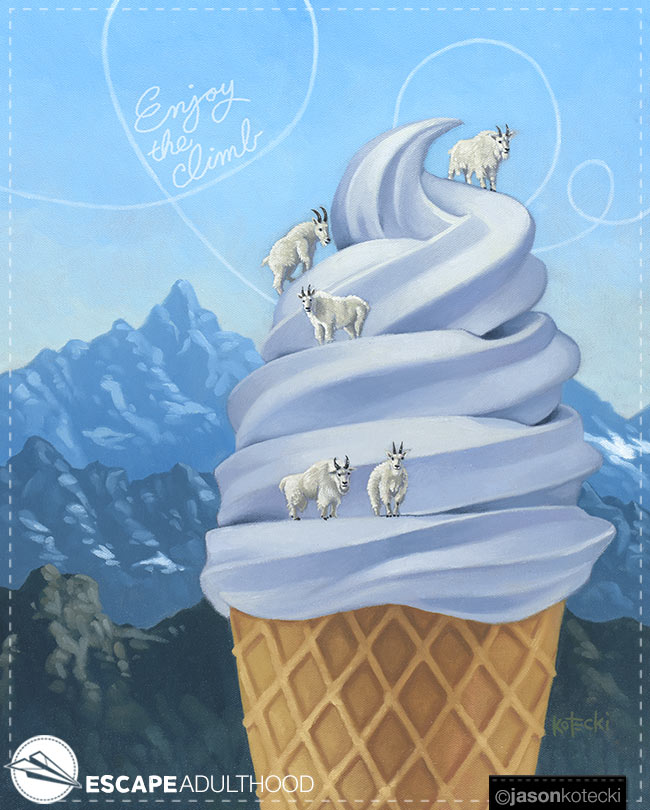 If you were to place your nose really close to this canvas and focus only on one of the goats, what would you see? A mountain goat on a snowy mountain. The environment around them is boring, plain, cold, and possibly treacherous.
I was reading some old journals the other day. I was struck by how concerned I was about details of projects and initiatives that are no longer relevant to our current business model. Problems that needed to be solved, or else! Pitfalls that seemed like backbreakers. At first, I felt disappointment that I had wasted so much time on things that in the end, didn't matter at all. But then I realized, that's how life works. You struggle through, doing the best you can with the information you have. And hopefully, you learn from your mistakes, grow, and move forward. I realized that in ten years, a review of the journal I wrote this morning will probably feel exactly the same way; only the details will have changed.
Back to the painting now. Look at the big picture.
Holy cow, those goats are surrounded by ice cream!
Sometimes we miss the cool things happening in our life, because we're too focused on the struggles right in front of us.
A few years ago I was enjoying a wonderful dinner with some speaker friends. We started a table discussion about the best place you've ever been that you'd like to go back to. While others shared amazing stories of Tuscany, Brazil, and Ireland, I felt silly because all I could think of was the Quality Inn in Clearwater, Florida.
I'm pretty sure the year was 2007. Kim and I didn't have kids yet, and we were in the early stages of my speaking career. We'd recently been to a speakers convention where a guy named Randy Gage talked about these exotic bungalows in Tahiti. He noted that some are perched over the water, featuring cool glass-bottomed floors, and wondered why anyone would invest the considerable expense to vacation in Tahiti and then settle for the slightly cheaper but extremely less exotic wood-bottomed accommodations a few hundred feet inland.
So as we checked into the Quality Inn, the host offered us the option of upgrading from our "Garden View" room (which savvy travelers know as code for "Ugly Roof and Air Conditioning Unit View") to an "Ocean View" room.
"How much extra would that cost?" we asked.
"$20 a night," was the reply.
We huddled to talk it over. Twenty bucks was a big deal for us, which should not come as surprise because, as I mentioned, we were checking in to a QUALITY INN.
With Randy's rallying cry still ringing in our ears, we threw caution to the wind and said YES.
Isn't it funny how often it takes far less than a million dollars to feel like a millionaire? That's definitely how we felt as we triumphantly surveyed our ocean view.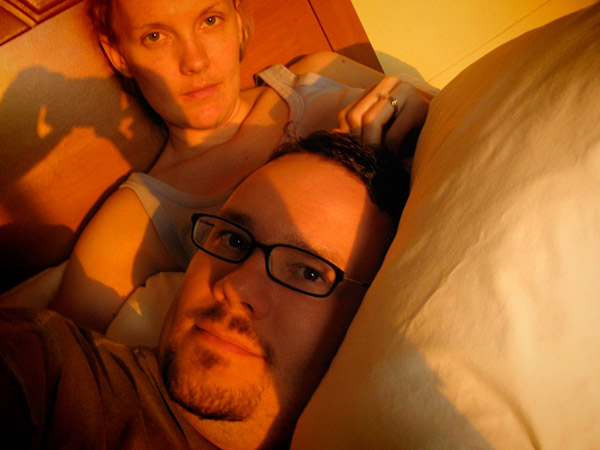 Photographers often refer to the hour before sunset as "magic hour," because the light from the sun casts a beautiful golden hue on everything it touches. I remember lying on our bed, watching the sun sink into the Gulf. And I still remember how beautiful Kim looked. I'm so glad we snapped this selfie before selfies were a thing.
I also remember that back then, we spent a lot of our time dreaming of "making it" and looking forward to the days when we'd be checking in to much fancier hotels, you know, like Quality Inns in Tuscany.
I spent a lot of time striving, worrying, and wishing I was somewhere else. Somewhere better. But I look back now and realize what an exciting, fun time that really was.
Sometimes we get so caught up chasing the next moment that we forget to savor the one we're in.
Wherever you are on the mountain right now, enjoy the climb.