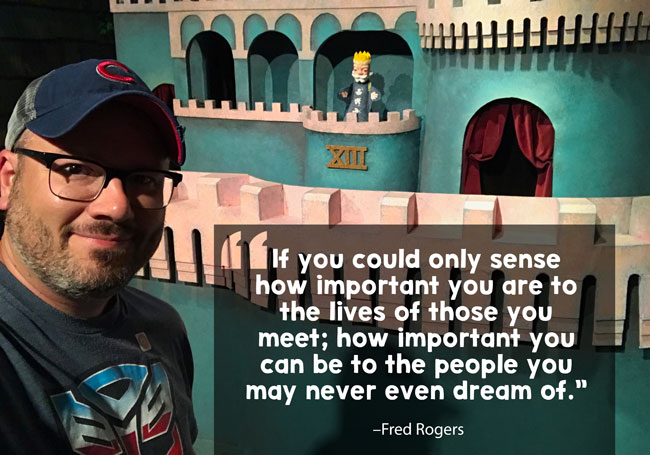 I recently had a speaking engagement in Pittsburgh. While there, I was able to visit the Heinz History Center, where they have a collection of props and set pieces from the television show Mister Rogers' Neighborhood, including King Friday's Castle and X the Owl's tree.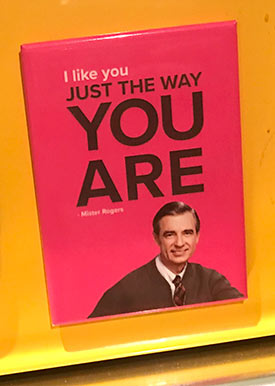 Like many, I have been greatly impacted by the work and life of Fred Rogers. As we perused the gift shop, I was looking for a magnet to add to my big yellow tool chest in my studio. There were a number of options to choose from, each featuring different sentiments. The one I was most drawn to, and ultimately bought, was a pink one that said, "I like you just the way you are."
Although there were others I liked better in terms of design, I felt like this one had the message I most need to hear.

I consider myself a confident person, but I often find myself focusing on the areas I fall short, wishing I was more this or more that. 

Sometimes I wish I was a bit more extroverted.
I definitely wish I was handier around the house.
More courageous.
And about twenty pounds lighter.

I'm sure you have your laundry list as well.

This quote from Mister Rogers reminds me that there's another list, filled with things that are pretty cool about me, and that when God created me, he knew what he was doing. 

His aim was not to make me all-powerful or self-reliant. Instead, he gave me certain gifts that were designed to be used to make the world better in specific ways, and compliment the gifts of others. 

I may not be perfect, but I am good.
 
Perhaps our shortcomings are there to keep us humble, but I mostly think they are a catalyst to get us to rely on others. You and I, we are puzzle pieces. Alone, our usefulness is limited, but without us, the picture would not be complete. 

You, dear neighbor, are beautifully and wonderfully made. You have some remarkable qualities that other people wish they had.

You may not be perfect, but you are good. 

And you don't have to fix, improve, or accomplish anything for that to be true.

When we get stuck lamenting the things about ourselves that we wish were different, sometimes we need to be reminded just how likable we really are.

Thanks, Mister Rogers.