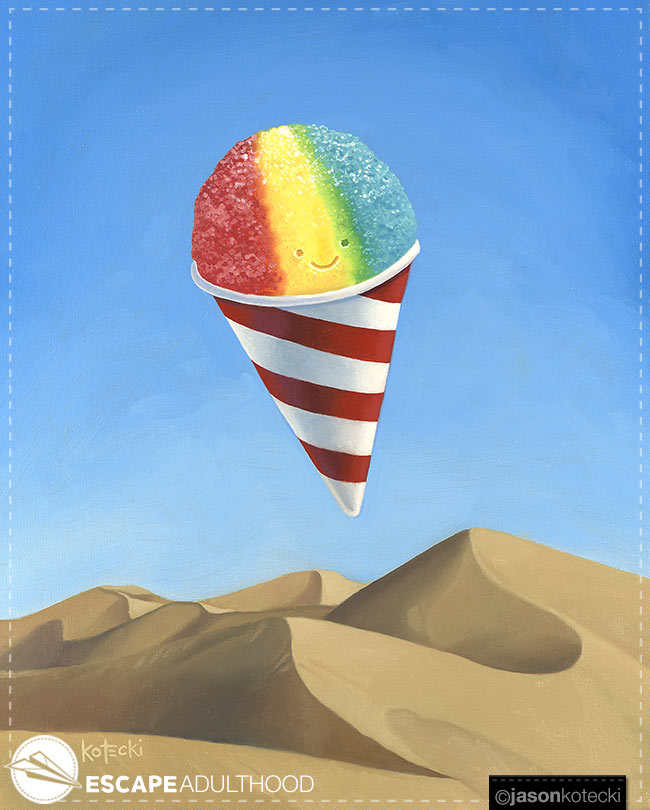 When Kim and I started this adventure, we were optimistic. Very. When we decided to abandon my career as a freelance illustrator and designer, we felt very strongly that my comic strip Kim & Jason was going to hit the big time. We planned to live on Kim's kindergarten teaching salary, which we knew would require sacrifice, but we were fairly certain that within a year, Kim & Jason would take the world by storm and we'd be exchanging phone calls with Oprah and her people.
We had no idea it would take five years before we'd be able to earn a living with our business. And by earning a living, I mean simply replacing the Kim's robust $23,000 teaching salary.
It didn't take long for the optimism that launched our big dream to fade. For much of those five years, it felt like we were living in the desert. Any encouraging email from a reader, or an order on our store that didn't come from someone we knew, were like drops of water on a parched tongue.
The dream never died, but we wondered at times if it was merely a mirage. Every so often, we'd lie awake in bed, wondering if we were officially crazy. We certainly felt like the whole process of scraping to pay bills while struggling to turn a profit was driving us mad.
The truth is, I had a lot of dreams that never came true.
We lived in an apartment for eight years, which is exactly seven years longer than we planned. We went to an open house in a trendy, developing neighborhood for a condo we wanted just to get photos for our vision board, (which I thought was a pretty clever way to speed the process along.)
Long story short, we never got into that condo. Kim & Jason never hit the big time. It never even hit the medium time.
But I stand before you today to let you know that Elizabeth Barrett Browning was right: God's gifts do put man's best dreams to shame.
During those early days, speaking was not on the radar. Giving a TED talk wasn't on my vision board (mostly because TED didn't even exist yet). But shortly AFTER Kim retired, speaking emerged as a big driver of our business model and enabled our family to visit some amazing places I never could have imagined.
We never got the condo, but that was because we were led to a house instead, which we bought just as the condo market in Madison was cratering due to oversupply. And a hotel with a big parking lot got built right next to the condo we had pined for.
Bullet. Dodged.
I meanwhile, I retired Kim & Jason in 2007. But I still make art, I think it's even better, and it's definitely more fulfilling. And it led to an evening like this.
Like an explorer marooned in a desert, life can be a struggle. Things can seem bleak, desolate, hopeless.
Maybe this feels a lot like you, right now.
During these times, a simple glass of water seems like a priceless treasure.
But keep going. Have faith. Stay the course.
What you ultimately encounter may end up putting your original dreams to shame.