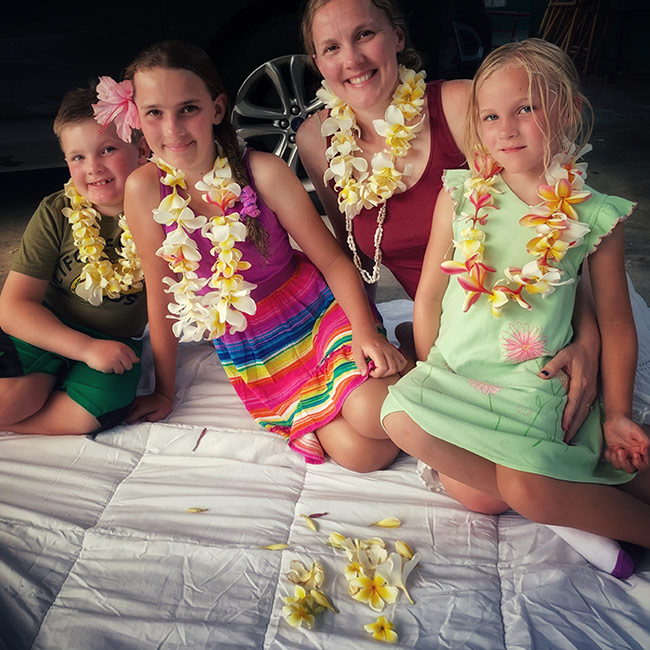 The best parts of life aren't always planned.

But they can happen on purpose.
I recently spoke at a nursing conference in Honolulu. My family was put up in a room with a breathtaking view in a huge Hilton resort on Waikiki Beach. It had five pools, twenty restaurants, oodles of neat shops, and all kinds of organized activities you could sign up for. For us, it was…meh.
It was a lovely property, but Kim and I have come to learn that massive hotels, cruises, and all-inclusive resorts are not our thing. Places that cater to tourists are often missing the authentic sense of culture that come with out-of-the-way spots. Everything is orderly, structured, and perfectly curated. They excel at delivering predictability.
And that's the problem.
We like freedom, authenticity, and the magic that comes from a little unpredictability.
Like the place we stayed the week before my talks, a little bungalow on the other side of Oahu, half a block from Lanikai Beach. The unit was well-kept but definitely showed its age. There was no ocean view. There were only two window air conditioning units in the bedrooms. I had to "rescue" a lizard from our bathroom one night.
And yet, it was quiet. The kids had the pool all to themselves. And like I said, we were just steps away from one of the best beaches in the world, which was smaller but less crowded than Waikiki.
And it offered some of the best memories of the trip.
It turns out the property manager was a Grammy award-winning musician and a member of one of the most renowned musical families in Hawaii. His grandkids called him "Tutu Man," and so we did as well.
He offered to meet us on our arrival to show us around. He described himself as a big white dude with a Moses cane. It was a puzzling, but apt description. We had no idea how much of an impact he'd have on our stay.
He stocked the freezer by the pool with popsicles for the kids.
He conducted a tutorial on the making of leis for Kim and the kids.
He gave my son Ben a ukulele lesson.
He told us the best way to interact with the little crabs on the beach at night.
He pointed us to a little hole in the wall burrito joint that had the most amazing kalua pork that was so good, we ate there twice.
He ensured us that our kids would be able to handle the Lanikai Pillbox hike. We probably wouldn't have attempted it without his encouragement, but he was right, and it gave us an enormous feeling of accomplishment and rewarded us with the best view ever.
He regaled us with his stories of worldwide travel as a musician and gave us a unique window into the history and culture of Hawaii. Since then, we have exchanged postcards and a few FaceTime calls.
Mind you, we didn't know any of this when we booked the place. We were just looking for something that wasn't a hotel, in our price range, and in a quiet area somewhat close to a beach. And we planned a whole lot of open space in our schedule.
Which is the biggest key of all.
Planning things gives us a sense of control. Predictability makes us feel safe. But it also robs us of the magical moments that only come from being open to whatever comes our way.
The thing is, that magic needs space to land. Otherwise we find ourselves in ruts and long to schedule vacations from our vacations. Our best memories as a family have been the result of going off the beaten path and adding white space into our agenda.
It's one thing to schedule this empty space on vacation, but what about the rest of the year? Our days are packed with obligations, commitments, meetings, and get togethers of all sorts. How much empty space do you have in your everyday calendar? (And when you have it, how often do you fill it with something predictable?)
A busy mom named Jennifer shared with me that she schedules "Pink Days" for her family a few times a month. They are called Pink Days because that's the color of highlighter she happened to have on hand the first time she scheduled one. She uses the highlighter to color in a few days a month and makes every effort to not schedule appointments, errands, or get togethers on those days. She says her family's Pink Days have become "a rejuvenating busyness-free oasis of puttering, creativity, and low-key family time."
This is right in line with what I've written about taking a Sabbath, but I love the twist the highlighter adds. It's a visual cue, and gives the day a "radioactive" feel, sending signals to all of Adultitis' advances to STAY AWAY!
If Adultitis has been having its way with you lately, perhaps a Pink Day is the perfect antidote.
Practice giving yourself the gift of having nothing to do. Once you have some open space cleared, be open to spontaneity, and the opportunity to be treated to something unexpected.
Sound like a plan?
Aloha!