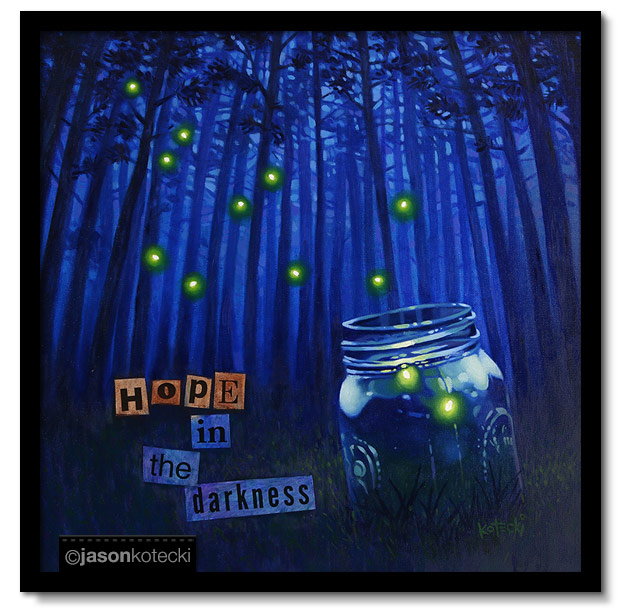 It was a dark and stormy night…

…that lasted for two months. 😳

That's the season we find ourselves in, when darkness has filled the entire world and months feel like centuries.

As I think about darkness, I can't help but think of a strange quality we humans have. Whether it's a handful of birthday candles in a darkened room, the glowing embers from a campfire in the woods, or the flickering stars in a night sky, we can't help but be drawn to the light.

Throughout this pandemic, a particular phrase has resurfaced again and again during my morning quiet times: fix my eyes.

I've been encountering it so often, in songs, books, and videos, that I was curious to look it up and see if I might glean some deeper understanding. According to one dictionary definition, this version of "fix" means to direct one's eyes, mind, or attention steadily or unwaveringly towards something.

I immediately thought of a story In the Bible in which Peter, one of Jesus' most lovable and bone-headed followers, gets to walk on water. The thing is, when he's focused on Jesus, all is well and he is able to do the impossible. But when he shifts his attention to the raging waves, he's swallowed by fear and begins to sink.

The only difference is where Peter has chosen to fix his eyes.

Back to this peculiarity that human beings are born with an innate attraction to light. Spend any time at sunset on any beach in the world, and you will find every single person staring at the sun. No one is facing the opposite direction.

It's not that we don't notice the darkness. There have been times during this pandemic when I have been sucked in by it. It's a scary place to dwell. During those times, my anxiety levels increase. Fear grows.

But then I notice it.

My attention is pulled away by something else…a tiny firefly, glowing amidst the expansive backdrop of black. Before long, I see another, and then another.

These fireflies are the helpers. The people who have decided to help where they can. It's the same light, but expressed by individuals in different ways.

The high school principal who visited over 600 graduating seniors. 

The woman delivering donuts to her staff who are working from home. 

The DJ leading dance parties in the street. 

It may be just as dark at one in the morning as it is at three, but only one of them is two hours closer to dawn. For most of us, it's still night. But sunrise is closer than it was a month ago.
The fireflies are hope in the darkness that we will see the light.
Until morning comes –  which it will – may we continue to fix our eyes on the humble lights pulsing with hope all around us. 

And may we flash our own light for others.