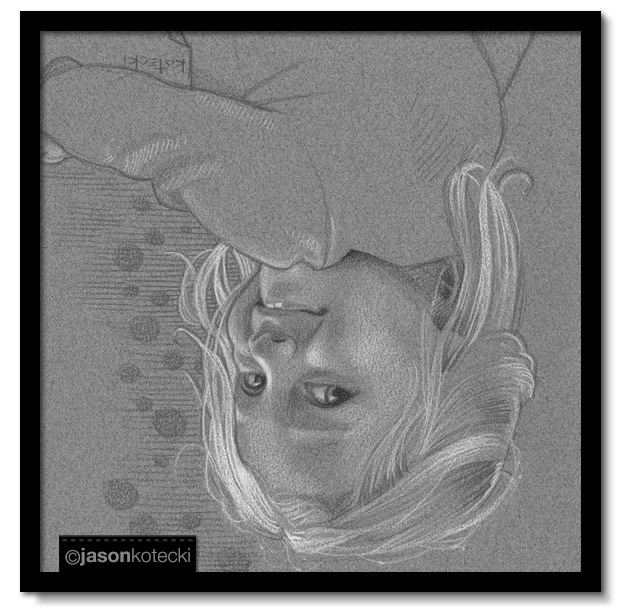 When I'm working on a painting, I have to step back from time to time. I have to literally stop the activity of painting and be still before the work. Otherwise, I can't see the painting through the brushstrokes.
You might think that pausing slows down the process. What it really does is help me make better paintings.
If I don't step away every so often, I'm liable to get stuck overdoing part of the painting and end up ruining the whole thing. Giving myself some distance helps me notice certain aspects that I can't see when I'm up close. I can examine the overall composition, observe the balance of color, and see if the values are working well together. If I get a feeling that something's not quite right, stepping back and taking a look at the big picture can help me pinpoint the problem.
Sometimes, I simply step back to admire what I've created. One of my favorite parts of making art is the moment of pride I have when something turns out so well that I can hardly believe I did it.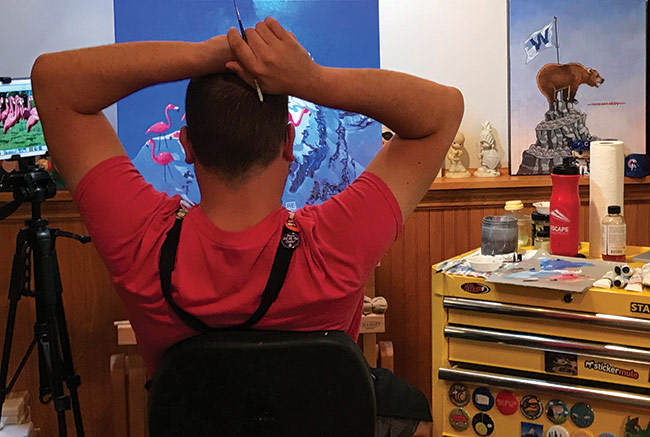 The same is true of our lives. We need to take time every once in a while to step back and see what we're creating. Too often, we get stuck in survival mode, busily checking off one task after another, rarely coming up for a breather for fear that we'll fall farther behind—or worse, be faced with the realization that our efforts have been misplaced and we've been focusing on the wrong things.
Nothing is less productive than to make more efficient what should not be done at all. 

–Peter Drucker
This is exactly what Adultitis wants: for you to stay busy, distracted, and more likely to veer off course.
The COVID-19 pandemic actually did us a favor when it turned our world upside down.
Believe it or not, there is an upside in all of this. We've been given the chance to look for areas in our life that we might have been neglecting, and for those that we might have been spending too much time on. We've also been afforded time to take stock of what matters most, and appreciate our blessings and the parts of our life for which we are most proud.
This pandemic has kept us from plowing ahead at our breakneck pace. Stopping might make you feel less productive. But what it really does is help you make life better.
If we busy ourselves with brushstrokes, we risk losing sight of the big picture. Stopping to step back and examine our lives makes it less likely that we'll end up with a mess on our hands, and more likely that we'll create something spectacular.
Whenever I draw a portrait, I have another technique I employ—one my wife thinks is weird. After I get the major shapes and outlines blocked in, I turn my reference photos and artwork upside down. Then I keep drawing.
The reason I do this is that inevitably, during the course of creating a portrait, I get to a point where something seems "off." Because I think I know what a nose is supposed to look like, I get lazy and draw what I "know," not what I see. Turning my paper upside down tricks my brain into forgetting that this is a nose so I can see it for what it really is: areas of shape and form. In order to nail the likeness, I need to focus on values and lines, not noses and eyes. I need to rely on reality, not assumptions.
This simple trick immediately allows me to see where I went wrong so I can make the necessary adjustments.
I don't have to detail the negative aspects of this pandemic, but when it turned everything upside down, we were given a golden opportunity to make our life, relationships, or business better.
The point is to let go of your assumptions and experience something as it really is. As Isaac Asimov said, "Your assumptions are your windows on the world. Scrub them off every once in a while, or the light won't come in." 
What assumptions have you had the chance to question in the last three months? Did you learn anything new about yourself? Did you discover that something you thought was important – or even necessary – actually wasn't? And most importantly, what are you going to do with this knowledge as you move forward?
Sometimes it's not new ideas we need, but a new perspective.