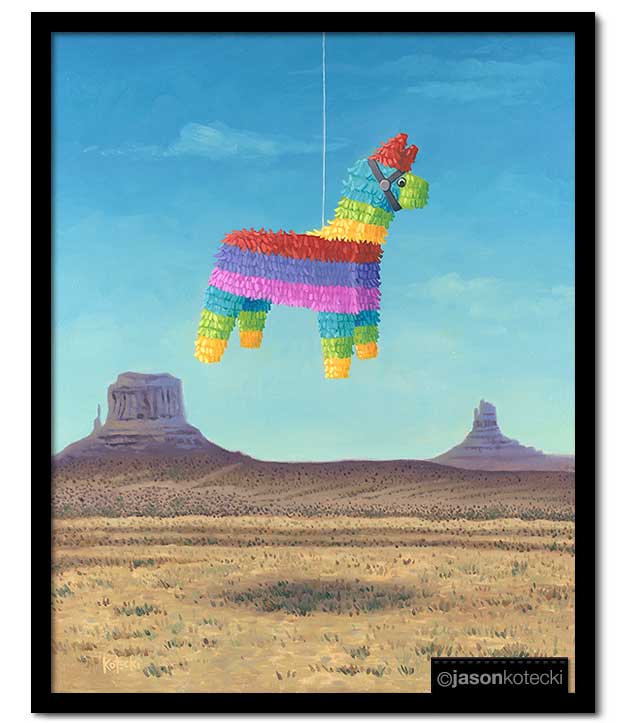 Piñatas are great fun, but only if they actually contain candy. We may be drawn in by the bright colors that promise a good time, but it's quite a disappointment if, after a few whacks, it's revealed that there's actually nothing inside. Whomp whomp.

The thing that makes a piñata so irresistible is what's inside.

The idea behind this painting is that if you've got a piñata, you've got a party, even if you're in the middle of a barren wasteland. It was inspired by a song by the Newsboys, called "Wherever We Go."

Here are some of the lyrics:
Wherever we go, the dumb get wise
And the crime rates drop and the markets rise
It's a curious thing
But it's just our thing

Bullies make nice, crooks repent
And the Ozone layer shows improvement
It's a curious thing
And it's humbling

Where we're led, all the living dead
Wanna leave their zombie mob
It's a touching scene when they all come clean
God help us, we just love our job

Hands up, holler back now
We don't claim any know-how
We're giving God all that
Wherever we go, that's where the party's at
One of the reasons this song has always resonated with me is because it feels like my life. I am a professional permission granter. I encourage people make ugly cakes, to draw on their children, and break stupid rules. I make colorful paintings featuring objects with smiley faces on them. When people hire me to speak, they gain permission to have all kinds of fun with the theme and branding. People love when I bring my family with me to gigs.

It feels like wherever we go, that's where the party's at.

That being said, I have a confession to make: I have never been the life of a party and our family is not as fun as you think it is.

Don't get me wrong. We do have fun together, we do more than our fair share of kitchen dancing, and Adultitis is not welcome in our home. But I often get the sense that people think that living in our house is like being on an episode of Pee Wee's Playhouse. Well, if you're old enough to remember that puppet-fueled gem of a show, today's secret word is: "letdown."

Even as we prepare to leave our beloved neighborhood in Madison for new shenanigans in Sheboygan, our neighbors are flooding us with heartfelt well-wishes. It appears we will be missed. And although I've never felt I've misrepresented what life is like in our family, I got the sense that people were seeing something more.

One day, I realized people were resonating with more than our outside appearances and outward actions. Like a piñata, what people are really attracted to is what's inside us. 
Our joy.
In my twenty years of writing and speaking, I haven't talked that much about my faith, preferring to live by the old St. Francis adage, "Preach the gospel always, and if necessary use words." But the truth is, our faith is what drives everything.

It's where our joy comes from. I know some people don't have it, but I can't imagine my life without it. It's what sustained us in the long periods of darkness when we were in debt and didn't know if we'd ever make a living with the business. The Holy Spirit is what stirs my imagination and gives me the courage to do things I never could have imagined as a shy, scared little boy.

In our household, we are celebrating the season of Advent as we prepare our Christmas. My favorite song of this time is O Come Emmanuel.

Emmanuel means "God with us."

And that's the difference between a party and an empty piñata filled with nothing but disappointment.

Some consider faith to be a crutch. An opiate for the masses. But I see my faith as a gift.

I don't know how to give it to someone, but I do know this: People are searching for happiness, but what I think they really crave is joy, which is deeper and less fleeting.
Joy is an inside job.
If you have it, wherever you go, that's where the party's at.