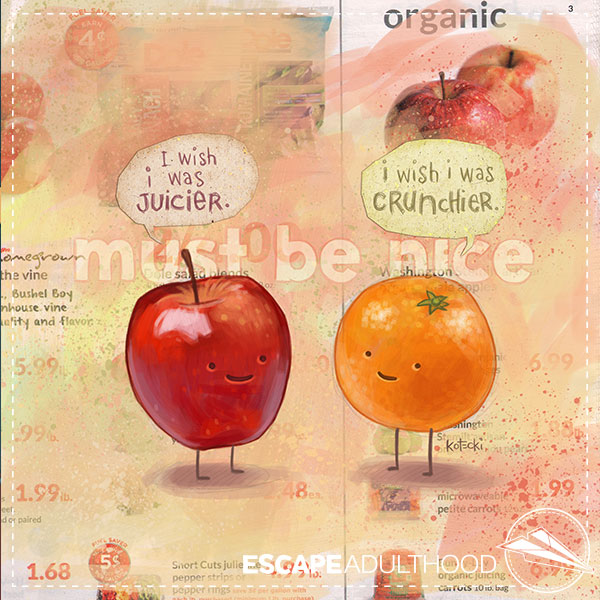 It's a natural human tendency to compare ourselves to others, especially to people who are in the same field we're in. Comparison isn't necessarily a bad thing if it leads us to discover areas where we can improve. But when it shifts into envy or jealousy, that's a problem.
I often attend the annual convention for the National Speakers Association. I always have to brace myself for the "must be nice" game. In the speaker world, it goes like this:
Of course he gets booked all the time, he's a former NBA player. Must be nice.
She's got so many connections from working all those years as a Fortune 100 CEO. Must be nice. 
I wish I could juggle fire and do backflips like that. Must be nice.
I spend so much time noticing all the things I'm not that I miss the things I am.
One theme that drove itself home for me during a convention years ago was my talent as an artist. The year was 2013 and I was sitting in a darkened ballroom in Philadelphia, watching Hall of Fame speakers grace the main stage. I was stewing in a "must be nice" shame spiral when it hit me.
Art is something I'm good at, and it's a skill that very few speakers possess. And yet incorporating my artistic gifts into my speaking programs and offerings was almost an afterthought. I saw it as an unrelated talent. I had not yet made it a cornerstone of who I am and what I do.  
This small revelation of mine might be patently obvious to you, as it was to many speaker friends I shared it with. Interestingly, our greatest gifts are often the ones we overlook the most because we tend to undervalue the abilities that come easily to us. 
I realized that were I to devote the time and attention to making my art an integral part of my unique selling proposition, someday I'd be on that main stage and there would inevitably be those who'd observe me from afar and say, "Of course he's a successful speaker. Being a great artist is a killer hook and being able to incorporate it into his storytelling and slides is such an advantage. Must be nice."
Since that fateful convention, we've made art the foundation of our offerings, incorporating it into everything we do.
And eight years later, at Caesars Palace in Las Vegas, I was asked to open that very convention with a main stage speech.
The title was, "Must Be Nice."
Meanwhile, I have a wife who shares this mission for fighting Adultitis and who is very good at communicating with clients and managing travel details. She books all our gigs and handles all the travel arrangements. Must be nice, huh?
You're dang right it is!
Now, the "must be nice" game is not exclusive to the speaking world. In your world, it might look like this:
Of course she is the top performer; she has a ton of contacts. Must be nice.
Everybody likes him because he is a natural-born comedian. Must be nice.
She's tall and athletic and got a free ride to college because she's a great volleyball player. Must be nice.
He is able to afford a house like that because he's a carpenter and can do all the labor himself. Must be nice.
Of course they get to travel all the time; they don't have any kids. Must be nice.
He gets straight A's and he doesn't even have to study. Must be nice.
She has all the time in the world to be involved in her kids' activities; her husband has a great job and she doesn't have to work. Must be nice.
The "must be nice" we tack on at the end is our backhanded way of voicing our envy and making excuses for ourselves. It's also a copout and a tragic waste of time. First of all, when all you see is the highlight reel, you miss the shortcomings that drive people crazy and the hard battles they are fighting quietly. Like my dad says, "The grass may look greener on the other side, but it still has to be cut." 
It must be nice that Kim and I live in our dream home on Lake Michigan.
And it is, but it also took us twenty years and lots of sacrifices.
Our propensity to succumb to jealousy in this way is a distraction from a most important truth: We all have a "must be nice."
Everyone has unique gifts and circumstances and experiences that they can leverage and benefit from.
Including you.
Your job is to quit wishing for someone else's, figure out what yours is, and make the most of it.
What's your "must be nice?"
---
This is an excerpt from A Chance of Awesome: How Changing the Way You See Changes Everything. It's about making everything in your life better by strengthening the habit of shifting your perspective. It's filled with Jason's colorful artwork and witty anecdotes. Get your copy here.