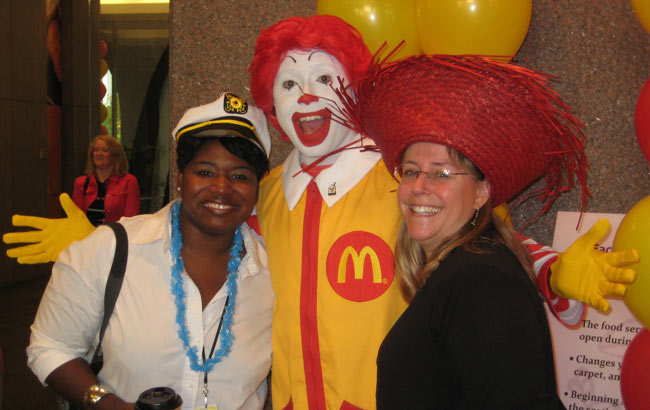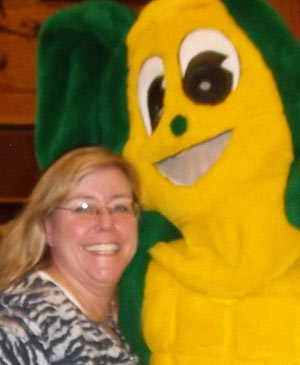 An Adultitis Fighter is someone who rallies against rules that don't exist and engages in ruthless, senseless acts of silliness that undermine Adultitis and its unadventurous version of adulthood. Once a month, we shine a light upon the most remarkable among us, holding them up as a dazzling example of what we should strive for in this epic battle against a formidable enemy.
This month's worthy recipient of this prestigious honor is Julie Brown!
In recognition of their efforts, Adultitis Fighters of the Month receive a special mini-canvas hand-painted by Jason, along with a certificate of honor, a sweet patch, and other Adultitis-Fighting tools. We asked Julie some questions about how she fights the Big A and what advice she has for others…
---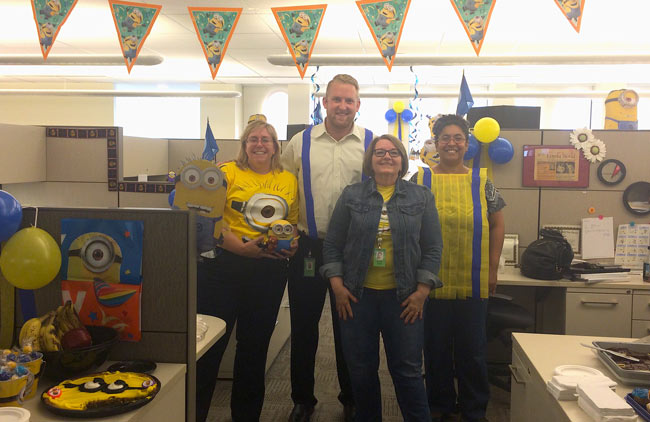 What are some of your favorite ways to fight Adultitis?
Finding ways to laugh while I'm stuck in traffic so that I arrive at work/home in the right mindset to start/finish the day. Playing hide & seek with my dogs. It's so much fun to hear them racing around the house trying to find me and it's hard not to give my location away by laughing.
Who or what has been the greatest influence in your own fight against Adultitis?
I'd say my mom. She taught me HOW TO PLAY WITH MY FOOD – vs. telling me not to play with it. To this day, I still toss my salad throughout the entire meal without even realizing it. Mom also understood when I had "school-itis". She'd call in (excused absence!) and we'd spend the day together. 
What is something you loved doing as a child that you still do in some form today?
Coloring and playing with the dogs. I haven't picked up my crayons, colored pencils, or markers as much as I'd like to — I recently created a few posters to decorate my Chicago Sports-themed beverage tent a golf charity classic – and had two people donate funds to the charity in return for specific posters. And most recently, my mom & I just finished stamping and coloring our 6th volume of the Family Favorites cookbook. We try not to repeat recipes (only a few have been repeated) or stamps –since she has something like 1,000 (no joke) — we've only repeated two stamps from what I can tell.
What is your strategy for dealing with people who are obviously infected with Adultitis?
Make them laugh or smile. If that fails, then I look for things that will make me laugh or smile so I avoid the doldrums.
What advice do you have for someone who is feeling overwhelmed by Adultitis?
Pick up and play a game you loved as a kid (I still have my original Gameboy with Tetris). Don't have it or it requires multiple people? Find and listen to a comedian to make you laugh. Couldn't find one or don't like laughing? Volunteer! I guarantee this will make you realize there are a lot of other people that are in greater need and you are blessed.
Anything else you'd like to share?
Attitude is a choice. I choose to look for the silver lining in the thunderclouds. There are lessons to be learned in both the best and worst of times. 
---
Congrats to Julie, October 2021 Adultitis Fighter of the Month. Thank you for making the world more awesome!