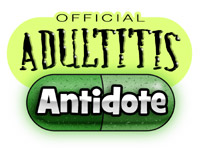 When it comes to the blogosphere, an Adultitis Antidote is a blog exhibiting a childlike spirit that helps counteract the effects of Adultitis by using honesty, curiosity, passion and playfulness to encourage its readers to delight in the little things, dream big, and stress less.
We are scouring the web for the cream of the crop and will be posting them right here, all in one place. We're not sure how many we'll find before the year is up, but we will guarantee this: the blogs that make the list will be fun, and really, really good. Rest assured, this is not just some willy nilly list of half-baked blogs. If you or someone you know is struggling with a mild or even extreme case of Adultitis, these blogs are great treatment options. The blogosphere is a big place, so if you know of a blog that we missed, let us know and we'll consider adding it here. Enjoy!
2007 Winners
• Bright Days & Fun Spirit | Shirley Jones has such an optimistic uplifting outlook on life that it can't be contained in just one blog, and you won't be able to resist a little of her sunshine rubbing off on you, too!
• Cheerful Monk | Jean Browman is devoted to happiness as a spiritual practice. Her blog is doing a great job of increasing the net supply of happiness in the world. Allow it to increase the happiness in yours.
• Chief Happiness Officer | If you're not happy at work, you are most likely riddled with Adultitis. Alexander, the Chief Happiness Officer, lives up to his name by making happiness possible and within reach, from 9 to 5.
• Daring Young Mom | When life imitates a three-ring circus, Kathryn shows that it is possible to juggle the many tasks of motherhood and fend off Adultitis with the greatest of ease.
• Embrace & Engage | Adultitis and stress go hand in hand. And stress can be a major contributor to heart disease, the leading killer of men AND women. Eliz Greene does a marvelous job of making heart health FUN!
• Everyday Mommy | Motherhood can be a breeding ground for Adultitis, but Jules has a heart to remind moms that it is quite an important — and fun — mission field, too.
• French Toast Girl | If your life has lost some flavor, is too soggy or not sweet enough, add some cinnamon and sugar by reveling in the insights and illustrations of Élena Nazzaro.
• Jen Robinson's Book Page | Not only does she encourage the love of books for kids, but Jen also promotes the continued reading of children's books by adults!
• Make it Great! | Phil Gerbyshak's infectious and cheerful mission is to help you unleash the greatness within!
• The M.A.P. Maker | Kids are big dreamers, be we shouldn't abandon our dreams when we grow up. Curt Rosengren focuses on the place where dreams and passion meet reality, and his blog will help you "create a life that lights you up."
• The Nienie Dialogues | Stephanie Nielson is a wife and a mother and a bright shining example of someone who delights in the little things in life. Plus, her blog is refreshingly unique and graphically interesting.
• Owlhaven | Even though she has 10 kids, Mary is never too busy to maintain perspective and delight in the little things in life. Are you?
• Parent Hacks | It's hard to escape adulthood when parenthood takes up so much time. This handy site offers ingenious tips to temper the craziness and give you back some much-needed "me" time.
• Rocks In My Dryer | A masterful storyteller, Shannon writes about motherhood in a way that is heartfelt, real, faith-filled, and downright funny.
• Success from the Nest | Tony D. Clark is helping the dreamers out there who are — or want to be — working from home.
• The Toymaker | Nostalgic, mythical and fun…Marilyn designs paper toys you (and your kids) can make and her blog highlights the process and encourages you to play more!
• Zen Habits | Creating simple and productive habits has never been so easy. Leo Babauta's refreshing lists help you get your life in order.