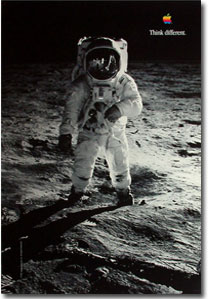 Steve Jobs, the CEO of Apple Computer and Pixar Animation Studios, recently delivered a commencement address at Standford University. I am a die-hard Mac fan, and I think he's one of the most innovative entrprenuers of my generation, so I listen to pretty much anything this guy says. But you don't have to own an iPod to appreciate his words of wisdom:
Don't lose faith. I'm convinced that the only thing that kept me going was that I loved what I did. You've got to find what you love. And that is as true for your work as it is for your lovers.Your work is going to fill a large part of your life, and the only way to be truly satisfied is to do what you believe is great work. And the only way to do great work is to love what you do. If you haven't found it yet, keep looking. Don't settle. As with all matters of the heart, you'll know when you find it. And, like any great relationship, it just gets better and better as the years roll on. So keep looking until you find it. Don't settle.
So true. You gotta do what you love. Most of my peers are in a well-established career path, dutifully climbing the corporate ladder. I wish I could say that most of them were also really happy and fulfilled. I may ot be swimming in big pools of cash, but at least I can honestly say that I truly love my work. There are always opportunities that come along promising a bigger salary and a comforting sense of security. Unfortunately, unless that opportunity offers work that you're passionate about, the short-term satisfacton quickly fades. Steve went on to share an interesting quote that made me think:
When I was 17, I read a quote that went something like: "If you live each day as if it was your last, someday you'll most certainly be right." It made an impression on me, and since then, for the past 33 years, I have looked in the mirror every morning and asked myself: "If today were the last day of my life, would I want to do what I am about to do today?" And whenever the answer has been "No" for too many days in a row, I know I need to change something…

…Your time is limited, so don't waste it living someone else's life. Don't be trapped by dogma – which is living with the results of other people's thinking. Don't let the noise of other's opinions drown out your own inner voice. And most important, have the courage to follow your heart and intuition. They somehow already know what you truly want to become. Everything else is secondary.
Why DO we waste so much time worrying what others think? How much energy do we spend chasing the approval of others? Speaking of the opinions of others, how many people in the early part of the 20th century really thought space travel would ever be anything more than comic book fantasy? When Buzz Aldrin was born, did his mom know that her son would one day walk on the moon? The flippin' MOON?! I doubt it. When Buzz Aldrin was going through the years of intense training and grueling physical preparation that preceded his little flight, do you think he was passionate about his work? You bet.
If today was the last day of your life, would you want to do what you're doing today? What would your life look like if you courageously followed your heart and intuition, and pursued the things that you are most passionate about? Just remember, with God, nothing is impossible.