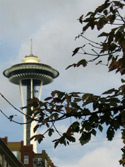 …my feet won't let me.
Kim and I had a chance to get out and explore Seattle yesterday. We're big walkers, and we did a lot of it. I think you just get a much better feel for the city by walking as much as you can; you get a real vibe for the place. By the end of the day, my feet started to revolt, but by the grace of New Balance, they are still here to talk about it. We parked in the shadow of the Space Needle, and walked west toward Puget Sound, then south to the famous Pike Place Market. It certainly lived up to its billing as the soul of the city. Being from Madison, I am no stranger to the idea of an open-air farmer's market, but this is a whole different thing altogether. The sights, the sounds, the smells…awesome.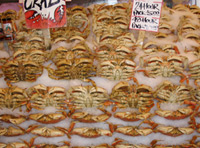 We watched a few fish get tossed around, and Kim got to get up close and personal with one. I marveled at the stacks of dungeness crab, believing that if I lived here I'd eat them every day. The sun peeked out from behind the clouds as we strolled the market, stopping to snack on a Russian piroshki and check out the original Starbucks. We liked the market so much, I'm pretty sure we'll stop there on Saturday again, when we have some more time to troll about.
We did the obligatory ascent up the Space Needle as the sun started to descend, which gave us breathtaking views of the sunset over the Sound as well as the city at night. (See the view for yourself here.) There is just something so peaceful about being up that high, looking over a city. Everything seems to be working efficiently; even the traffic seems calm. It makes you feel so small, at once putting your problems in perspective while appreciating the ginormity of the One who designed it all.
Today is a work day, capped off by a speaking engagement here in Bellevue to a group of married couples. Kim and I are already planning what to do on Saturday, when we'll have some more time to soak in Seattle, which so far has not been too soggy.