Kim and I are kicking around the idea of taking a week off and do absolutely NOTHING. To be honest, I'd love to be locked in a lakeside cabin up north somewhere, but we don't have the funds to do anything fancy like that. If it happens, it'll probably be a low-tech, in-house sort of thing. No phones, no TV, maybe even no e-mail. Right now, the idea is as frightening as it is tempting — a whole week off? The company will surely implode, won't it?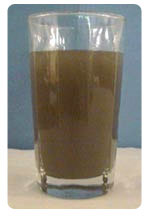 The reality is that in order to really work smarter, we need a little time to detox. Somehow our society got the idea that "busy" is good and admirable; a sign that we're successful. As I mention in my book, even our vacations are busy. Gotta do and see everything you possibly can. Those vacations can be fun, but our bodies (and souls) need some quiet time away, too. It's like we're jars of muddy water. When we're busy and in constant motion, things can get pretty cloudy. But if we take the time to sit for a bit, the dirt settles, and life gets clearer. You can shake the jar as forcefully as you want (work harder), but until you actually STOP, you won't be able to see clearly, allowing yourself to work smarter.
In an article on thestar.com, Ruth Liew makes some really good points. She accurately points out the aversion of adults to silence:
Many people are stressed out in their daily lives. They are unable to gain composure. Anxiety rises when they try to be tranquil. They get worried when there is silence. They need to be in a room that is filled with sounds from all directions. They chatter away without thinking much about what they are saying.

Most adults get anxious when it gets too quiet. Joggers wear headphones and listen to music as they exercise in the mornings. Some restaurants have television sets mounted in every corner. We carry our mobile phones wherever we go.
The whole article is a gem worth reading, but here are a few more highlights from Ruth:
Young children like a quiet hideaway place. Sometimes this place is in a discarded box or a space under the stairs or a wardrobe. Some children crawl under the bed or the dining table and imagine they are in another, faraway place.

When children are given free time, they tend to achieve more because they are not stressed by demands. I remember watching a precocious three-year-old who seemed a little "lost" in her nursery school. While the other children were in their respective classrooms, she would lie down on a large cushion and perform her own soliloquies.

She would say, "I don't know why I don't have any friends. I like them but they don't like me. What shall I do?" After uttering those words, she got up and went to meet her peers in the next room. She had worked it all out by herself. Children discover their inner selves when they retreat from the hustle and bustle of daily life.
The article really focuses on children, and how important it is for parents to allow their kids opportunities for some quiet. But I think the lesson the lesson is applicable to all of us.
When life gets muddy and out of control, the secret to a clarity is to find a secret hideaway place, slow down, and shut up.
[tags] stress, stressed out, retreat, vacation [/tags]