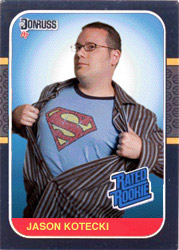 Today I got word that the newest issue of Madison Magazine hit the newsstands. In it is an Up and Comers article that features yours truly. It's a pretty neat article discussing my crusade against Adultitis. But I think it's weird to be called an "Up and Comer." Considering I've been at this for almost six years, I'm not sure what qualified me.
Now that I think about it, there's a lot of pressure on me all of a sudden. I remember collecting baseball cards as a kid. I remember pulling out cards of young players, brandished with logos like "Rated Rookie," "Future Star," or "Up and Comer." I'd be careful to keep all of those cards in special care; you'd never know which ones would turn out to be valuable collectibles. It was always interesting to wait five years and see which ones were on their way to the Hall of Fame and which ones were now working as used car salesmen in Poughkipsie.
It's always kind of nice to fly under the radar. People don't expect much and it's easy to surprise them with a good performance. But now I sort of feel like an NBA lottery pick, or a finalist on American Idol. In five or ten years, will the editors of Madison Magazine look back on their Up and Comer selection for April 2006 and say, "Yep, we called it. We knew this guy would be huge." or "Who's this bum? What were we thinking?"
We shall see what the future holds. For now, I'll just keep working hard and take this article as a sign that we're headed in the right direction. And try to keep visions of Todd Van Poppel's Rated Rookie card out of my head.
[Tags] baseball cards, Madison Magazine, rookie card, Adultitis, American Idol, Todd Van Poppel [/tags]