Kim and I are in Palo Alto this evening, the heart of Silicon Valley. Tomorrow we'll head north to Modesto for a business conference at which I'm speaking. Amidst all of the traveling and all the neat places we've been, I've discovered that the best part of it all has to do with people.
Yesterday, we were able to meet up with our best friends from Madison who are coincidentally in California on vacation. We were able to spend the afternoon together, standing on the edge of the Pacific ocean, driving over the Golden Gate Bridge, and staring up in awe at the mighty redwoods in Muir Woods.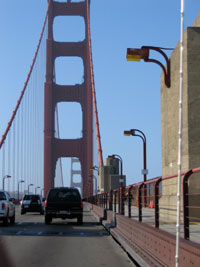 Tonight we had dinner with the folks who were hosting us, and heard great stories about their families and RV adventures. Although it was the first time we met them, it felt like we were among family. Also joining us was their niece Heather who lives in Alaska serving as a charter boat fishing and sightseeing guide, kayaking instructor, and overall outdoor expert.
Then after the speaking engagement, we had dessert with some folks whom we met when we were out here last January. It's so cool to have the opportunity to connect with people all over the country, so that when you come back again, in a small way, it's like coming back home. I made a commitment years ago to chase this dream no matter what. I never considered that the greatest blessing of the journey would be the people I'd meet along the way.
That's how life works. And I guess that's what they mean when they say that it's all about the journey, not the destination.