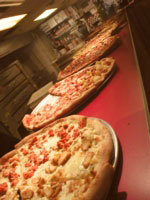 Today I had lunch with a friend at a remarkably childlike place. It's called Ian's Pizza, and it sells pizza by the slice as well as by the pie. What's remarkable is what's on those slices. You can choose from Mac and Cheese (their most popular), Lasagna, Steak and Fries, Chicken Cordon Bleu, or Guacamole Burrito, to name a few. (I heard they had Chicken Mashed Potato, but I didn't see it on the menu.) Of course, you can also get — ho-hum — pepperoni.
I felt like I was in the middle of Escape Plan Challenge #15 — eating something new. If the concoctions above don't seem too appealing to you, I can speak from experience: The Mac and Cheese and the Steak and Fries slices were AWESOME. I'll definitely be back, and I'll be bringing Kim.
Clearly, these folks have a passion for pizza and a childlike curiosity, as revealed in their manifesto:
Running a pizza shop is hard. The hours are long and the work is exhausting. What keeps us here, however, is the desire to create a unique environment for our employees and our customers. Whether inventing a new pizza with grilled hearts of palm or having a contest to win our lovely – yet smelly – purple couch, we're always fighting complacency.

Of course, not everything we try succeeds. For every hit slice we create many more fail miserably. Nevertheless, our promise to you is this:

As long as we're here, we'll create good food and fun experiences. And hopefully make a difference.

One slice at a time.
As far as I know, the only Ian's that exists is in Madison. If you're ever in the neighborhood, I invite you to try a slice. Meanwhile, I'm waiting for a pizza topped with chicken nuggets.
[tags]pizza, Ian's, macaroni and cheese, passion, curiosity, childlike[/tags]