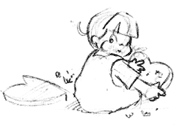 Childlike. Childish. There is a difference.
Not everything about kids is worth emulating. For instance, they have a pretty good handle on being childish. (I guess that's why they call it being "childish," and not "adultish.") Children can be quite compassionate and perceptive to the needs of others, but, left to their own desires, they can also be quite selfish. They have to be instructed in the ways of sharing things like toys and candy and the backseat.
It is true that grown-ups are responsible for developing a less me-centered attitude in kids (and shows like Nanny 911 thrive on those grown-ups who do a terrible job of it). But it's not like we're masters at selfless behavior.
In a recent Time magazine article, Harvard psychologist Dan Gilbert asks the question, "Does Fatherhood Make You Happy?" According to an insightful article by Betsy Hart in the Boston Herald, Gilbert writes that psychologists have found that people are less happy when they are interacting with their children than when they are doing a variety of other activities, like eating or shopping.
Like Hart, the first reaction that comes to my mind is, "Gee, do ya think?" And my second thought also echoes Hart when she says, "Whoever said kids are supposed to make parents happy?" She goes on to write:
What makes me really, really happy in the moment is a weekend night when they are asleep and I can sit up late with my jazz music, a cup of hot tea and my favorite newspaper. I mean, that's transcendent happiness!… And yet I also recognize that one of the very best things about having children is that, in a sense, like a rightly oriented marriage, it calls us away from "self" and toward "other." And if ever a culture needed exactly that, this one does.
Right on, Betsy. It seems to me that in as much time as we spend here cultivating and extolling the virtues of a more childlike disposition, we should also be spending an equal amount of time striving to be less childish.