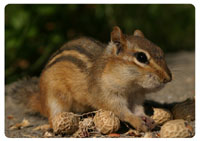 The summer days are growing shorter, and the kids are going back to school. For many parents, it is a welcome relief and the beginning of a long-awaited oasis of some peace and quiet. Of course children are a blessing, but they can certainly cause a disruption as well. Us grown-ups tend to like things neat and orderly, structured and without surprise. It can be really easy to get into "controlling mode" with kids, as we try our best to fit them into our idealized version of how life should operate.
And I believe that this propensity of grown-ups is one of the biggest reasons God made kids. To teach us a better way. I just finished reading this touching article (thanks Marilyn!) about one mother's unwitting enrollment as a pupil in her daughter's school of life. Here are the lessons:
Go see chipmunks and stuff like that with your kids.
When kids mess up, give them some hugs.
Give kids a chance to talk.
Laugh a lot.
Your homework is to read the short article yourself — you won't regret it — and be thankful that we've been sent children to teach us to slow down and appreciate the little things (a.k.a. the best things) in life.