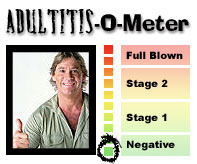 When I first saw Steve Irwin, The Crocodile Hunter, I thought, "Now this guy is one big kid!" His boyish passion and wide-eyed enthusiasm were irresistible. Whether he was sticking his head in a crocodile's mouth or picking up an irritated snake by the tail, I couldn't stop watching. Needless to say, Kim and I were saddened to hear about his death yesterday.
He died doing what he loved, interacting with animals. For a few brief moments after learning of his passing, I couldn't help but think, "Why did he always have to put himself in danger all the time? After awhile, it was bound to catch up to him." But then I reconsidered. I would rather die at 44, passionately doing what I loved, than spend my whole life playing it safe so I could die at the age of 88 in a rocking chair.
As I speak nationwide about Adultitis, I often wonder if it's possible to live a life that's completely Adultitis-free. I must say, I've observed this guy for a long time, and I can't find any significant signs of the disease anywhere. I didn't know him personally, but even the people who knew him best say that the guy you see on TV is the real Steve Irwin.
The guy's curiosity and playfulness and passion are way off the chart. And he had a big dream. He wanted the world to see normally feared and despised animals like crocs and snakes and sharks as he saw them: cute, gorgeous, and beau-oooo-tiful. He reasoned that if the world could relate to these creatures, they'd be more inclined to protect them and their habitats. Did he delight in the little things? Let me put it this way: I once saw him root through a pile of "dragon poo" with the enthusiasm and excitement of a boy opening his only present on Christmas morning.
He's the perfect example of being childlike — I'll never forget his boyish grin or how his eyes got as wide as saucers when he stumbled upon a rattlesnake nest — without being childish. Besides being a committed dad and husband, no one was more determined or serious about protecting wildlife and educating us on the beauty and importance of all of God's creation.
We need more Steve Irwins in this world. And I'm not just talking about the wildlife community. We need someone who is as enthusiastic and energetic and optimistic and determined in the arena of politics. We need some Steve Irwins in the field of education. In dentistry. In the pharmaceutical lab. In the local bank. I suppose the most tragic thing about losing Steve Irwin is that there are too few people like him.
So long, Crocodile Hunter. Thank you for teaching us. Thank you for showing us what an Adultitis-free life looks like.
Crikey, I already miss him so much.
[tags]Steve Irwin, Crocodile Hunter, Adultitis, Australia, snakes, crocodiles, sharks[/tags]