Kim and I created The Escape Plan to work for anyone, no matter where they happen to be. While it was originally created to be a 40-consecutive-day program, you'll feel a little less Adultitis-stricken anytime you do a challenge or two. We've been in the Denver/Colorado Springs area this week, and in between some speaking engagements, we've had some time to do a few challenges ourselves. In the tradition of the CSI: franchise, I give you Escape Plan: Colorado. What follows are examples of how someone might solve a few Escape Plan challenges if they were living in or visiting this part of Colorado.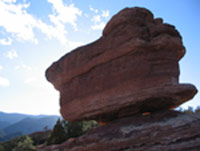 #18 – Prison Break: Get out of your element. Go somewhere you've never been before.
Kim and I had some time to kill between presentations on Sunday, so we drove to the Garden of the Gods. With the Rocky Mountains and Pikes Peak as a backdrop, the Garden contains some magnificent red sandstone rock formations. The one pictured here is Balance Rock. Neither of us had ever really seen the mountains before (except for flying over them on the way to California). The massiveness of the rock formations was beautiful and overwhelming. It's hard to really capture in pictures, but you're just enveloped by the open landscape. It's a great way to put any of your most vexing problems and stresses into perspective.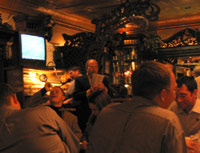 #3 – Says You: Do something that is typically seen as inappropriate for someone of your age.
How about singing at the dinner table? After my evening presentation at St. Patrick's church in Colorado Springs, Kim and I went to dinner at the Golden Bee. We actually heard about the place from a guy we met a few weeks ago in Wellington, FL. Part of the Broadmoor hotel, the Bee is an authentic 19th century English pub, famous for its yard and half-size ales. One guy next to us ordered a yard of beer, and when he wasn't drinking from the long glass cylinder, it rested on the floor beside him. A ragtime pianist led everyone in a rousing sing-a-long; songbooks were at each table. The place is like an Adultitis hospital.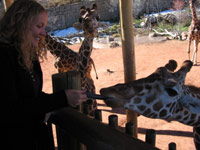 #10 – Memory Maker: Create a memory today with someone you care about that will mean a lot ten years from now.
On Monday, we visited the Cheyenne Mountain Zoo, the only mountain zoo in the country. It offered a spectacular view of Colorado Springs, as well as a once-in-a-lifetime experience. One dollar will buy you three crackers to feed to one of the giraffes — they have over 20, and they all like crackers! I'm sure Kim and I will never forget feeding and petting the tall, gentle creatures. Nor will I forget the coating of saliva my hand received.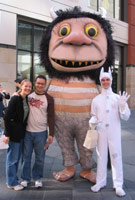 #23 – Photo Safari: Take a picture of the most childlike spot in town.
Yesterday we found ourselves in downtown Denver. During lunch we spotted an amazing sight just outside our window. It was the Maurice Sendak book, Where the Wild Things Are, come to life before our very eyes! We had to get a picture with Max and one of the wild things, who were out promoting an upcoming ballet production of the classic children's book. Fun stuff.
So there you have it, three days, four challenges. (Make that five, to be exact…I also accomplished challenge #15 when I tried buffalo chili for the first time — made with real buffalo.) The next time you visit a new place, see how many challenges you can fit in. You may not end up with a spit-covered hand, but then again, you never know. (I find that it's a good remedy to Adultitis.)
[tags]denver, colorado springs, colorado, escape plan, garden of the gods, golden bee, ragtime, cheyenne mountain zoo, giraffes, maurice sendak[/tags]