A few weeks ago when Jason and I were in Denver we had the chance to do some of the Escape Plan challenges and Jason shared them in his blog. As you probably read in Jason's recent blog, Adultitis: Ground Zero, we just spent a week in D.C. We managed a delicate balance of work and pleasure. Jason had five speaking programs and we had a few half-days in the city to sightsee and enjoy our nation's capital. We had the chance
to do a few Escape Plan challenges that I thought I'd share. Here are some ways to fight Adultitis in D.C.
#3: Says You: Do something that is typically seen as inappropriate for someone of your age.
While making a quick jaunt through the National Museum of Natural History, we found our way to the dinosaur section. (Jason was thrilled!) I got some funny looks as he took this picture of me almost getting eaten by a T-Rex.
#10: Memory Maker: Create a memory today with someone you care about that will mean a lot ten years from now.
As some of you know our company has a line of greeting cards named the W.O.W. cards, named after Wilbur and Orville Wright. They are such an inspiration to us as a company as they have modeled childlike curiosi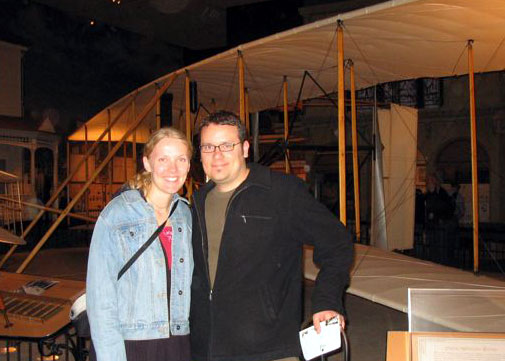 ty and persistence in the pursuit of their crazy big dream of creating a "flying machine." We hope and pray that we will have the courage to follow in their footsteps as we journey towards our own big dreams, as crazy as they seem sometimes. We were both speechless as we stood there in The National Air and Space Museum and stood inches away from that crazy flying machine that changed all of our lives. We were not alone in our amazement. There was a gentle silence in the room as everyone seemed in awe of what they were seeing. I know Jason and I will never forget that experience.
#12: D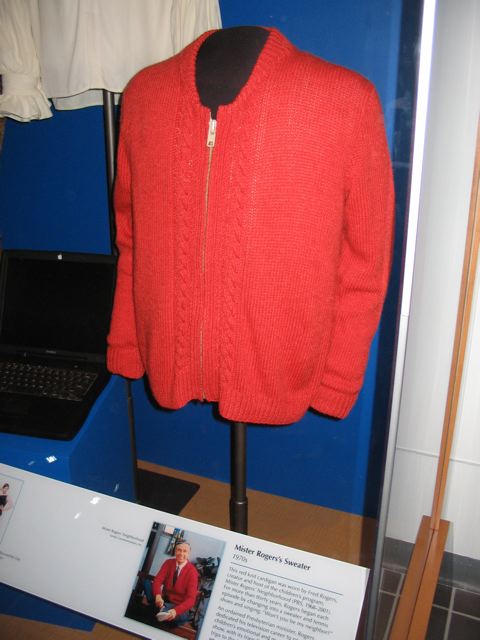 ear Hero: Write a letter to a childhood hero (real or fictional).
Last January when Jason and I did the 40 days of challenges I wrote a letter to Mr. Rogers' wife, telling her how much his work had impacted me as a child. When we got to D.C., we found out that The National Museum of American History was closed for renovations, but they had a few exhibits open at another location, so we weren't sure how many things they would have there. I was elated to see Mr. Rogers' red zip-up sweater. It was surreal. What a cool follow-up from this challenge a few months ago.
#23: Photo Safari: Take a picture of the most childlike spot in town.
One thing that amazed me about D.C. was the Smithsonian Museums. There are tons of them filled with amazing discoveries and all free! We could've easily spent the entire week museum hopping and still wouldn't have seen it all. Here are some of the childlike highlights. (I had a hard time picking just one.)
From left to right: The real ruby slippers and Scarecrow's costume, the first teddy bear and the original Kermit.

#7: Indulge Thyself: Spend 15 – 30 minutes doing something you love that you don't often have the chance to do.
I love visiting historical sites! There was something very humbling visiting the landmarks in our capital. Walking the National Mall and seeing the monuments for Jefferson, Lincoln and Washington, as well as the Vietnam Wall, World War II Memorial, etc., was just awesome in the truest sense of the word. It really made me appreciate all that our ancestors have done to ensure our freedoms. We are so blessed!
[tags]Washington D.C., Adultitis, The Escape Plan, Denver, Colorado, dinosaurs, T-Rex, National Museum of Natural History, Wilbur and Orville Wright, National Air and Space Museum, dreams, dreaming, Mr. Rogers, National Museum of American History, Smithsonian, Kermit, National Mall, Jefferson Monument, Lincoln Monument, Washington Monument, Veitnam Wall, WWll Memorial, freedom[/tags]