If you have had the opportunity to check out the new website put out by the Cure Adultitis Institute, you may have seen the list of Adultitis hospitals. In case you're wondering, an Adultitis hospital is a highly specialized treatment facility that is exceptionally effective in treating especially aggressive cases of Adultitis. There are many such hospitals located throughout the world.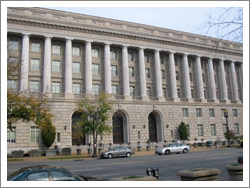 This week, Kim and I have been in the Washington D.C. area. Between speaking engagements and working out of our satellite office (a.k.a. The Hampton Inn), we have had a chance to ride the Metro rail into the city for a little sightseeing. On Wednesday, I was able to photograph the very antithesis of an Adultitis hospital. Rather than treating Adultitis, this place is a breeding ground for the deadly pandemic. As far as I can tell, everyone who works there is infected, and it's in the business of spreading Adultitis far and wide.
Officially, it's known as the Internal Revenue Service building. On the street, it's known as an Adultitis Haven.
In fact, in my brief visit, I've found that the entire city of Washington D.C. has an unusually high concentration of Adultitis sufferers, particularly around the Capitol building and its offices. You can feel it in the air. I wonder how much differently this country would run if the Adultitis problem was snuffed out of this otherwise great city. Ironically, when our Capitol tour guide found out that I was a speaker, he asked me if I had an interest in running for office someday. What worries me is that this question seems to come up more and more frequently these days. I told him that I was quite happy — and busy — in my current post. Privately, I wondered if it was even possible to inject myself with enough Adultitis to have a snowball's chance in winning. I also wondered if not wearing a tie everyday would be grounds for impeachment.
Other than the abnormally high amount of Adultitis percolating through the city, Kim and I have had a good time. We got to see the Lincoln Memorial and Vietnam War Memorial, the International Spy Museum, and even the Hope Diamond. Yesterday we got to tour the White House and Capitol building. Tomorrow our goal is to see the original Wright Flyer and Kermit the Frog. I have a feeling the National Air and Space Museum is going to be added to the list of Adultitis hospitals.
P.S. You tell me: have I been too critical of the IRS? Is there anybody out there who works for the IRS and doesn't have a full-blown case of Adultitis? Prove me wrong.
[tags]Washington D.C., Adultitis, politicians, politics, IRS[/tags]