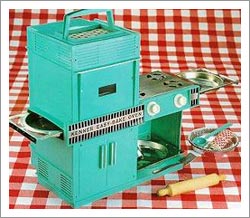 During our recent speaking trip to Washington D.C., Kim and I had the opportunity to see the first light bulb invented by Thomas Alva Edison. I am sure that when he was working out the details on this notable invention, struggling through all the not-quites and the near-misses, he kept a vision focused in his mind. "Someday," I'm sure he thought, "if I succeed, little girls and boys everywhere will be able to make tiny and marginally edible baked goods easily and safely. I can't give up now."
Were he alive today, not only would he be 159 years old, but 2006 would have been a very proud year for the inventor. This year, the Easy Bake Oven was inducted into the National Toy Hall of Fame. It's a pretty big deal. To make it in to the Hall, each toy must not only be widely recognized and foster learning, creativity or discovery through play, but endure in popularity over multiple generations.
Interestingly, the two inductees this year (the Lionel Train made it in, too) were powered not by steroids, but by electricity, making them the first electric toys ever to be enshrined in the 8-year-old Hall of Fame. Here's a little of the Easy Bake back story, according to the museum:
In the early 1960s, pretzel vendors on New York City streets inspired toy makers at Kenner, Inc. to make the Easy-Bake Oven. Anticipating parents' concerns about safety, Kenner substituted two 100-watt light bulbs for a heating element to minimize the possibility of burnt fingers. Accompanied by special cake and cookie mixes, a recipe book, utensils, and slide-thru bake pans, the oven debuted in fashionable turquoise and pale yellow. Through the years, the design of the oven has changed, but not its popularity. Since 1963, more than 23 million have been sold, and more than 140 million mixes have been baked into yummy, yummy treats.
A happy year for Edison, indeed. Now if only they'd come up with a USB powered version, I could concoct some yummy treats while writing this blog. One more little known fact: Thomas Edison and I share the same birthday. I hope I can live to be 159 years old.
[tags]Easy Bake Oven, Thomas Edison, National Toy Hall of Fame, light bulb, inventor, inventions, toys[/tags]