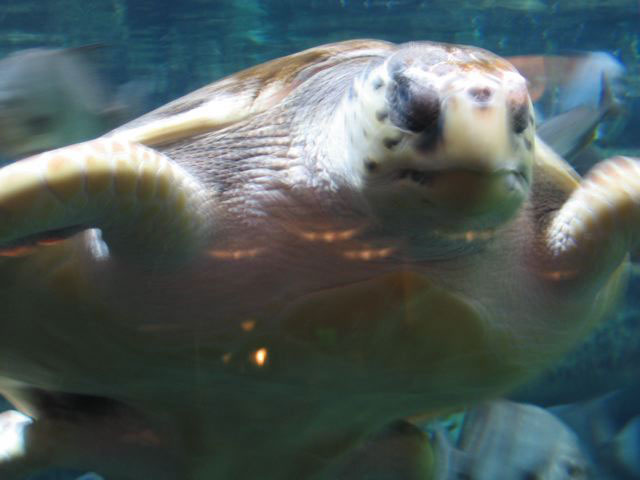 Jason and I talk a lot about looking to children as teachers; miniature sherpas to show us how we should live a stress-free life filled with a childlike heart. Jason talked about this in his blog last fall. We saw a sherpa the other day while walking into the Georgia Aquarium (the world's largest aquarium). She was about three-years-old and couldn't contain her excitement as she ran alongside her parents towards the entrance. She had bright pink tights, a colorful skirt and black and pink cowboy boots. So cute! She was excited to be there. I can always learn a thing or two by observing the behavior of a sherpa.
As we commented on this bundle of enthusiasm ahead of us, neither of us realized that we would soon see sherpa-like behavior in those that live at the aquarium, the fish. They were the exact opposite of stressed. It was so peaceful watching the beluga whale swim upside down, without a care in the world. The playfulness of the sea otters made everyone smile. They were surrounded by toys, which the kids pointed out right away. I envied the calm and graceful movements of the sea turtle and the jellyfish. We even got to get rid of some of our own Adultitis in the touch pools, which housed stingrays, starfish, shrimp, horseshoe crabs, sharks, and sea anemones.
Who knew that the fish would teach me a few things about relaxing?
So, should we lie around and "seemingly" do nothing all day like the fish? Not necessarily, but we should take the time on a regular basis to really relax and get to a place of mental, physical, and spiritual peace.
[tags]Georgia Aquarium, fish, jellyfish, sharks, beluga whale, Adultitis, horseshoe crab, shrimp, starfish, sea anemity, sherpa[/tags]