Yvonne over at the Lip-Sticking blog posted some thoughts by Erma Bombeck. Here are a few poignant tidbits from If I Had My Life to Live Over:
I would have burned the pink candle sculpted like a rose before it melted in storage.
I would have invited friends over to dinner even if the carpet was stained, or the sofa faded.
I would have eaten the popcorn in the 'good ' living room and worried much less about the dirt when someone! wanted to light a fire in the fireplace.
I would never have insisted the car windows be rolled up on a summer day because my hair had just been teased and sprayed.
I would have sat on the lawn with my new clothes and not worried about grass stains. I would have cried and laughed less while watching television and more while watching life.
I would never have bought anything just because it was practical, wouldn't show soil, or was guaranteed to last a lifetime.
Instead of wishing away nine months of pregnancy, I'd have cherished every moment and realized that the wonderment growing inside me was the only chance in life to assist God in a miracle. When my kids kissed me impetuously, I would never have said, Later. Now go get washed up for dinner. There would have been more I love you's. More I'm sorry's.
But mostly, given another shot at life, I would seize every minute…look at it and really see it, live it, and never give it back.
Don't worry about who doesn't like you, who has more, or who's doing what.
Instead, cherish the relationships you have with those who love you.
These words were written by a woman dying of cancer. And they really sum up beautifully what I mean when I urge people to Escape Adulthood. Why do we spend such large chunks of our time taking things so darn seriously? Or, more importantly, why don't we realize that the things we usually take so seriously are the exact wrong things?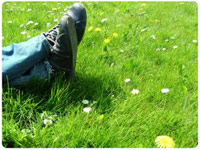 I believe we should look at children as teachers; miniature sherpas guiding us to the life Erma Bombeck describes. Children are active, there's no doubt about that. But I've never seen a kid complain to another about how stressed she is. I've never seen a kid answer the question, "How have you been?" with the proud reply, "Busy!" And I've never seen a kid that's impressed by things hailed as "practical."
Children live life with reckless abandon. Sure, it's messy and loud and sometimes uncouth, but then again, they could care less about what other people think of them. They'd burn the pink candle sculpted like a rose first, and try to figure out how to melt the plain and boring ones into something resembling a dinosaur. Kids love how it feels to drive down the road with the wind raking through their hair (and they laugh at the wild results when the ride is over). They collect grass stains like Boy Scouts collect badges — with honor. They laugh at a dog chasing its tail, and cry when a caterpillar gets killed by an errant soccer ball. Kids don't have regretful lists of things they wish they would've done differently.
In short, kids just get it. The thing that's easy to forget is that we all used to get it. (I've never met anyone who hasn't been a kid — at least once) The cobwebs may be dense, and the rust caked on thick, but it's worth the effort to relearn what we forgot.
When in doubt, consult a sherpa.
[tags]Erma Bombeck, Lip-sticking, grass stains, cancer, stress, sherpas, Boy Scouts, busy, life, escape adulthood[/tags]