I finally had a chance to meet blogging buddy and Make It Great! guy Phil Gerbyshak and his wife on Saturday. Kim and I met Phil and his wife (also named Kim) halfway between Madison and Milwaukee.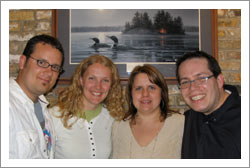 How shall I sum up the experience of meeting Phil? It's like meeting Rain Man, a Baptist preacher, and your best friend all in one. It was remarkable that Phil knew beyond a shadow of a doubt that in 1980, Rickey Henderson batted .303 and stole 100 bases with 9 home runs. It was just as remarkable that Phil seemed to be friends with pretty much every person currently alive.
But to me, the most remarkable thing about Phil is his attitude. The guy manages the Help Desk team for a very huge company in the financial industry. He and his team deal with everything from cocky impatient stock brokers that blame him when the server hiccups, to seven-hundred-and-fifty-year-old men who are having trouble getting their Commodore 64 on the Internets. And yet through it all, he maintains a remarkably positive attitude.
Me? I'm afraid I'd be locked up in a mental institution with several counts of battery on my record.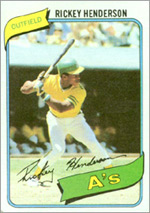 Perhaps as much as anyone I've met, Phil has a handle on the idea that we control our attitude. Too many of us go through life acting like victims. Life throws us one curve ball after another and we feel we have no choice but to sludge through our days grumpy and depressed. Of course, nothing could be further from the truth. Life DOES throw its share of curve balls (how many of Rickey's 297 lifetime home runs were hit off curve balls, Phil?) but we have a choice about how to react to them. Do we let the occurrence determine how we act and feel, a veritable swing and a miss complete with a slow angry walk toward the bench? Or do we see the opportunity in the situation, respond with a positive attitude, and knock that ball out of the park?
When kids are learning to walk, they fall — a lot. But they get up again and again and again. They don't quit when setbacks come. They don't throw a tantrum because they're the only one in the room not walking. The most successful people in life tackle difficult situations with a clear head, a determined persistence, and a positive attitude.
The good news is that Phil admitted that he has had to work on his remarkably positive attitude, and that he's still a work in progress. So there is hope for us all.
Thanks for the example, Phil. And thanks to you and Kim for the wonderful afternoon. We'll see you soon!
[tags]Phil Gerbyshak, Make It Great, positive attitude, Rickey Henderson, customer service, Help Desk,[/tags]