Several weeks ago, I received an e-mail from a New Hampshire woman named Kim. She had a special vanity license plate that she no longer needed. As you can see from the photo, it was a plate of particular interest to me and Kim.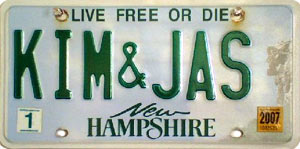 Well, New Hampshire Kim said she was just going to throw it out, but first wanted to offer it to us as a souvenir. Of course we gladly accepted the wonderful gift. Just yesterday, it arrived in the mail. Kim and I are both totally excited about it. We were both taken by the amazing power of the Internet as well as the generous gesture of kindness from New Hampshire Kim.
We were also quite stricken by the slogan on the top of the plate, "Live Free or Die," which I believe is New Hampshire's state slogan. Clearly, this is a reference to the revolutionary history of our nation, when the early colonists were fighting for their freedom from England.
But it also strikes me as a declaration that is very childlike.
Children are often seen as carefree. They are free to wear the most ridiculous looking outfits, never thinking that someone might be snickering behind their backs. They are free to draw whatever they wish, without looking over their shoulder to see what everyone else is drawing. They are free to love the color brown, even if colors like red and blue are way more popular.
We all experience this freedom as children. Eventually — and earlier and earlier these days — that freedom slips away. We become more aware of the latest trends. We care more about social norms. And we do start paying attention to what our peers are doing, as well as how they perceive us. And I'm not just talking about the peer pressure of the adolescent and teenage years.
If you're not careful, you may wake up one day and find yourself in a career that someone else desired for you, stuck in a job with a salary that you can't afford to lose, living a life that looks eerily similar to that of your neighbor's. To top it all off, you're afraid to do anything about it because other people might think you're crazy, foolish, or in the middle of some sort of mid-life crisis.
Suddenly, life in the Land of the Free doesn't seem so free after all.
This license plate will serve as a reminder for me to never shy away from being me. To not worry about social norms, or compare myself with others. To follow my own path. One thing I know for sure is that one can never be truly happy unless one is truly free. Maybe this post about this license plate will serve as that reminder for you, too.
We are in the early stages of looking for our first "official" office space, and one of the first things that will proudly grace the walls will be this inspiring symbol. A symbol of the power of the internet, of the kindness of strangers, and of the value of true freedom. Thanks, Kim!
[tags]freedom, New Hampshire, license plates, individuality, childlike, live free or die[/tags]