As I sit on my front porch this September 11th I can't help but be in a mood that is equal parts melancholy, nostalgic and inspired.
Such a strange combination.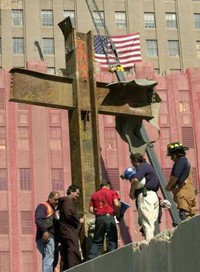 Life changed as we know it six years ago. Not only were lives lost, but innocence was stolen. The fight against terror is overwhelming and persistent. We are all so blessed that there are courageous men and women willing to give their lives for our safety. Boy, do we take that for granted.
What I find horrific as a sit and reflect is the number of people who were not victims of that awful day, but who are waiting for a tragedy to help them put life in perspective. There is little as tragic as a person dying with regrets. You cannot sit and wait for something to create change. You have to muster up the courage and do it yourself.
If you are overworking at the expense of your health and relationships, STOP.
If you are paying complete strangers to raise your kids, STOP.
If you are staying in your job you hate just for the benefits, STOP.
If you are watching too much TV, STOP.
If you are not using your vacation days, STOP.
If you are too busy to notice a beautiful sunset or wildflower, STOP.
If you are worried about what others think of you, STOP.
If you are eating your family dinner in the SUV or around the TV, STOP.
If you are living small, STOP.
In honor all of those who've died for our freedom and safely, we have to live life differently, or else this will be the biggest tragedy of all. Our lives should honor theirs.
If there's anything we learn from the deep loss of 9/11, it's that we must live for today, for nothing is guaranteed.
[tags]September 11th, 9/11, tragedy, honor, overworking, worry, freedom, terror[/tags]