Growing up, I was terribly shy and afraid of new situations. In high school, I became very anxious when I realized that there may be a very good chance that in order to pursue my dream of becoming a freelance illustrator, it might be necessary to move to a big city… alone. Something like that was galaxies away from my pretty small comfort zone, and just thinking about it petrified me.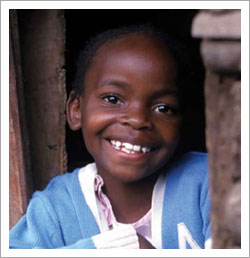 With that being said, I am astounded that I am actually seriously considering a trip to the other side of the world. To Africa.
Ethiopia, to be exact.
Kim and I were in Colorado Springs this past week. We spent a free morning touring the headquarters of Compassion International, an organization that works to free children all over the world from the bondage of poverty. We also had the fortune of speaking with one of Compassion's vice presidents about our past and current work with the organization, and possible opportunities for increased future involvement.
We've been sponsoring a boy from Ethiopia named Hailemariam (we call him Hal) for over eight years. It has been so cool to see him grow up over the years, and read about his development through his personal letters.
Compassion regularly arranges trips for people to go visit their sponsored children, and we recently heard that a trip to Ethiopia had been scheduled for early '08. It has been a pipe dream of ours to visit Hal someday.
In his last letter, Hal mentioned — for the first time — his desire to meet US someday.
Thursday's Compassion visit stirred our hearts even more. The work they do is inspiring. Their outreach is child-centered, rather than community-centered, which may seem like semantics but is a important difference to us. They focus on impacting the physical, social, economic and spiritual aspects of children's lives, championing a very smart, but deceptively simple approach to breaking the circle of poverty. Rather than just providing free food to satisfy their hunger (which is important), they are using their resources to help people help themselves, building up communities from the inside, using children as the catalyst.
Ever since recommitting myself to God when I was in college, I have slowly learned to notice and hear His gentle whispers. I have learned that He likes to move his children out of their comfort zones, but that He always provides enough tools and grace for the almost always frightening journey. And this nudge to visit Ethiopia is a whisper that grows ever louder as the days go by.
As far as Kim and I are concerned, the idea of traveling to Ethiopia has suddenly become a very real possibility. A lot of things could happen between now and then, but right now, the only sticking point is the price tag of anywhere from $4,000 – $8,000. -Gulp!- But we know that if it's meant to be, it'll somehow work out.
We both have a sense that we are destined for big things. We both have a sense that our involvement with Compassion will grow. And we both have a sense that a trip like this will change our lives forever, even though we don't have a clue of what that transformation will look like. It simultaneously scares the stuffing out of me and makes me laugh at the anxiety I once felt about the prospects of relocating to Los Angeles…
For now, we'll continue writing Hal encouraging letters, and sending him the photos he so loves to receive. And we will take the advice of the Compassion rep who showed us around, and let Hal know that we would like to visit him, too, and ask him to pray for us to do just that.
Because another thing I've learned about God over the years is that he listens to the prayers of children.
[tags]Compassion International, Africa, poverty, Ethiopia, faith, comfort zone, Colorado Springs[/tags]