My dad faxed me an article from the local paper. Here's an excerpt:
I believe the kids in our generation are growing up too fast and not enjoying what they have left of their carefree fun times. I know there's the spirit of a 7-year-old in all of us, it's just the question of when to put that spirit away, if there really is a right or wrong time to do it.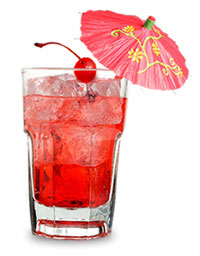 Obviously, this opening caught my eye. YES! There is a 7-year-old in all of as! YES! Kids DO grow up too fast! What high-ranking Adultitis-stricken grown-up has finally "matured" enough to see the value of embracing a childlike spirit and the havoc Adultitis wreaks in our young people? Not a grown-up at all, actually…the editorial was written by Katherine Toraason.
A sophomore in high school.
She goes on to write:
When's the last time you saw a 16-year-old order a kiddie cocktail, go to the park and swing, or ride their bike just for the fun of it — without seeing a wandering eye or a tiny snicker from afar?
Indeed. Those things kids once liked to do are now apparently too childish for the children. Nope, kids couldn't be bothered with such trivial pursuits these days; they need to be doing grown-up things right now. A USA Today article that highlights a growing phenomenon of little girls going to the spa for facials, manicures, and pedicures, notes that "little first-graders already are carrying lip gloss" and that many of these tweens "already know what a French manicure is. They know they want square nails, not round."
Toraason is having none of this. In her view, kids are growing up way too fast. "Let me get this straight," she says. "It's OK for fifth graders to wear skirts that cover only half of their behind, but it's a complete sin for me to do childish, outlandish things such as drink a kiddie cocktail in peace?"
It's hard to argue with her. She is in the trenches, after all. And she is quite passionate about the kiddie cocktail:
You really can't find a better flavor, and I'm not sure why it's considered inappropriate to drink this tasteful beverage. I mean, you've got your Sprite, cherry flavoring, two cherries, a sword, all on the rocks. Why isn't this drink the favorite of everyone around the world!

It's because of the idiocy of the brilliant man who created this amazing drink. He had to put the six letter word kiddie in front of it, which is loaded with connotation.

Maybe he could have called it, "The pink, non-alcoholic beverage for everyone young and old to drink."

But he didn't, and now it's an embarrassment to order if you're not a kid.
I must say, it's refreshing — as refreshing as a kiddie cocktail — to know there are some kids who are not hell bent on blindly following the Adultitis-paved path to adulthood. Says Toraason, "We need to enjoy what we have left of our childhood, make it never ending. I don't think we should be worrying about how high our skirts are, or who are boyfriend is this week. We'll have plenty of time to figure all that out later."
Now I can drink to that.
[tags]kiddie cocktail, katherine toraason, spas, childlike, childish, Adultitis[/tags]