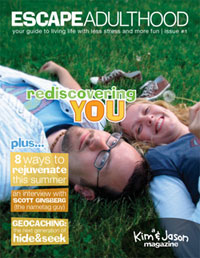 We are excited to announce the launch of Kim & Jason magazine!
In this issue…
We'll help you to rediscover the REAL you, the one who is destined for less stress, more fun, and great things! It also features all kinds of summertime ideas for escaping adulthood, as well as a look back at the summers of your childhood.

Features…
Rediscovering You by Jason Kotecki | Now that you're all grown up, what exactly are you supposed to be doing with your life? Jason outlines how you can uncover clues from childhood and what steps you can take to create a life that is more meaningful, fun, and unique to YOU!
An Interview with… Scott Ginsberg | Find out what the guy who became famous for wearing a nametag 24/7 has to say about approachability, making a name for yourself, and breast feeding.
You've Got To Have a Dream! by Willie Jolley | World-renowned speaker, singer, and author Willie Jolley shares the common denominator and main ingredient for all success.
8 Ways to Rejuvenate This Summer by Eliz Greene | Do you yearn for a little more sanity and a bit more fun? Make the most of your summer with Eliz's tips to enjoy yourself, lighten your load, and regain some balance.
Dare to Be Different by Phil Gerbyshak | Have you ever felt stuck in a rut at work, wondering why you look and feel the same as everyone else? Got a case of the Mondays and it's Thursday? Does Phil have some ideas for you!
Escape Plan: Clearwater by Kim Kotecki | Discover five awesome ways to escape adulthood the next time you visit Clearwater, Florida!
The Next Generation of Hide & Seek by Jenna Regis | Geocaching is a hot new trend. Find out how, with the aid of a GPS, you can uncover a whole new world of outdoor fun!
A Honey of a Discovery by Allan Dash | In his trademark storytelling style, Allan shares the tale about his first bike (a shiny blue 1945 Schwinn) and learning the difference between honey and vinegar.
Plus: A brief history of fair foods, reflections on swimming lessons, a snapshot of classic summertime games, a recipe for making your own funnel cakes, and MORE!