We're now just a week away from the BIG MOVE. Next Friday we shall begin loading up a U-Haul and commence moving the Kim & Jason corporate headquarters to a renovated old brick house on the isthmus. I'm excited about the wood floors, skylights, cathedral ceiling, a front porch — I haven't been able to sleep for three days!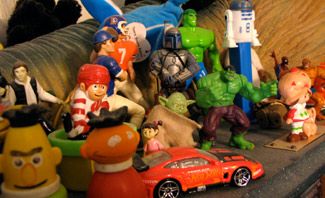 There are lots of things to do between now and then. One of the most underrated and thought-intensive aspects of the move revolves around my…buddies (I stole this label from my nieces. They use it to describe all of their tiny character-driven toys.)
Like most self-respecting cartoonist/artist/rejuveniles, I have quite an assortment of action figures, superheroes, sports figurines, and Happy Meal toys. Which ones will make the move? Where will they be displayed? Who gets the most prominent positions? The political maneuvering has begun!
Of course I have no shame in sharing this dilemma with you, because collecting and displaying action figures has finally been deemed not a "source of nerdy shame", but rather "acceptable accents in home decor." (Thank you, Globe and Mail!):
 "We've always idolized art in some way: now it's just a Robocop instead of Rodin," said [a] 30-year-old video game designer.

But with the mainstream success of superhero franchises in Hollywood and the nerdification of culture in general, action figures have come out of the closet and are increasingly finding a place of pride on walls and mantels.

"There's sort of a nerd chic thing now," said Mr. Cho, who did his master's thesis on the action figure as artistic artifact. "We're not necessarily less cultured, but our focus is different. Pop culture and cross-promotional products are huge."
I, for one, am certainly thrilled to be part of the nerdification of our culture. (Note to self: cross that off the life list.)
It's nice to see a wider acceptance of people displaying their collections of things they're passionate about. My mom has several gazillion Precious Moments figurines (at last count). Other people collect Hummels, shot glasses, Christmas ornaments, or thimbles. Thimbles! I am sure that there are people that have curio cabinets of thimbles galore prominently displayed in their homes.
Please don't misunderstand; I'm not railing on thimble collectors (as I am sure that this blog attracts many of them), I just want to know who decided that thimbles are a more worthy thing to collect than Yodas? Why should one be considered appropriate and another deemed "low-brow?"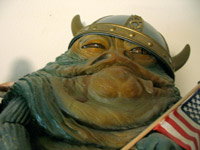 Here's the deal: be yourself. Don't waste your time worrying about what other people might think. If someone makes fun of your entire wall devoted to vintage bottle caps, it might just mean they are jealous of your latest 1976 Dr. Pepper acquisition. Be passionate. Collect what you want to collect. Display what you want to display. And if you don't want to take my word for it, Canada's national newspaper says it's ok.
Did you hear that, honey? I can put Jabba the Hutt in the living room…right?
P.S. Am I the only one who'd like to see Hummels riding in Hummers?
[tags]rejuvenile, Yoda, Jabba the Hutt, collecting, collectibles, thimbles, Precious Moments, Hummels, bottle caps[/tags]