Ok, this topic is coming up so often, I've now deemed it an official category of this blog:
Adults Are Ruining Everything.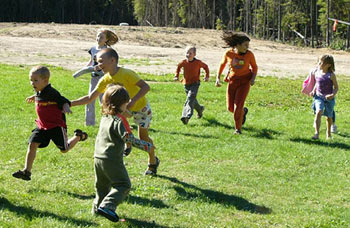 Not to be content with suffering the effects of Adultitis in their own life, we have an epidemic of stupid people trying to spread it to everyone. Childhood as we knew it is in danger. If this keeps up, an outbreak of Juvenile Adultitis is on the horizon.
Curt Rosengren of Motto Magazine points us to an article about an elementary school that has banned…tag.
Freaking TAG!!!
Why? Because "some children complained they were harassed or chased against their will."
"It causes a lot of conflict on the playground," said Cindy Fesgen, assistant principal of the Discovery Canyon Campus school. Running games are still allowed as long as students don't chase each other, she said.
What's next? Banning hide and seek because kids who weren't immediately found felt a deep sense of loneliness? No more kick ball until we figure out a way to ensure that someone won't get picked last?
What has led us to this point where we care more about not hurting people's feelings than we do about using a little common sense? One person is offended by something (or these days, just the THREAT that someone MIGHT be offended by something) and we have to completely ban a childhood game, cancel a Christmas party, or shut down an entire holiday.
I'm not saying we should be disrespectful of other people's rights and freedoms. I am saying that this childishness needs to end and people need to grow up.
[tags]banning tag, Adultitis, Discovery Canyon Campus school, Motto Magazine, Curt Rosengren[/tags]