They say misery loves company. That must be the reason why grown-ups suffering from full-blown cases of Adultitis are working so hard to ruin Halloween for kids.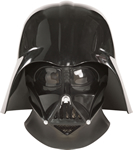 My three-year-old niece is going Trick or Treating as Darth Vader this year. (Yes, I did say niece.) She already has the next three years worth of costumes planned out. Next year, it's Luke Skywalker, then Darth Maul, then…a bunny.
The other day on the radio, I heard the superintendent from the Madison School District mention that they don't encourage schools to have costume parties. They don't ban them; they just strongly discourage them. "Some cultures don't look at dressing up in costumes the same way as others," she said.
When Kim was teaching kindergarten, she ran into this issue every October. There was a very small contingency that wanted to do away with Halloween altogether, for fear that someone, somewhere would be offended. Now I don't know about you, but any time I see a five-year-old dressed up like Spiderman with a bag full of Milk Duds and Milky Ways, my blood just boils.
Why have we lost our perspective? Why have we become so over-sensitive about everything? These days, political correctness might just be a fancy way for an Adultitis-stricken grown-up to say, "I'm angry, miserable, and afraid, and I hate seeing other people happy."
Then I come across a USA Today article talking about companies that are coming out with more healthy alternatives to standard Halloween fare. Mini granola bars. Bat-shaped pretzels. Pre-sliced apples.
Pre-sliced apples?
"Halloween is a nutritional nightmare," says Cynthia Lair, a nutritionist. "All the candy isn't just non-nutritional, it can also create nutritional debts."
Question: What in Sam Hill is a nutritional debt? Is George Bush aware of this? Call Congress into action immediately!
Says spokeswoman Wendy Davis, speaking on behalf of the apple growers group and Radio Disney about sliced apples in pre-sealed bags at 50 cents a pop: "About the same price as a Hershey Bar. But better for you."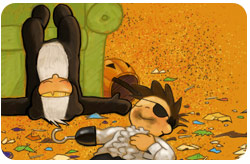 Of course, these companies are not marketing to the kids. No kid in his or her right mind would ever, EVER choose a pre-sealed bag of sliced apples — sliced apples? — over a Hershey bar. These companies are marketing to grown-ups, particularly the ones who have become so overcome with Adultitis that they are inadvertently (I'm giving them the benefit of the doubt) choking all of the fun out of childhood; specifically Halloween.
When I was a little shaver, my dad made us a snack every night. Usually it consisted of some combination of oranges, raisins, bananas, and yes, even sliced apples. But when Halloween rolled around, it was all about the sugar. We would binge on candy for days at a time (I'm sure creating a very sizable nutritional debt) and it was wonderful.
It was wonderful because it only happened once a year. Childhood obesity is a big problem these days, but it's not because of Halloween. It's because too many parents can't say no to their kids, are too busy to prepare much else but fast food, and appease their children with chocolate and sugar.
In the eyes of children, Halloween is a national holiday. Dressing up like a ballerina (or Darth Vader) and eating some Hershey bars is not going to hurt anyone. Grown-ups, please, get some perspective, get some help for your Adultitis, and quit ruining everything.