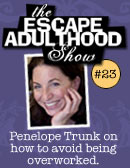 In this episode, brought to you from studio 315 in Madison, Wisconsin, we interview Penelope Trunk, the Brazen Careerist, about changes in the workplace and how you can avoid being overworked. We also talk about the rain, using stickers to help you escape adulthood, and some exciting new Adultitis-fighting things coming out later this month.
Just click "Play" to listen to the show…
Show Notes…
• Check out Penelope's web site, PenelopeTrunk.com, and buy her book, Brazen Careerist for 45 tips to help the new workforce succeed on their own terms in any industry.
• News: Five Ways to Avoid Being Overworked (Yahoo! Finance)
• The New American Dream by Jason
• Read David Allen's hit book, Getting Things Done.
• Learn more about bringing Kim & Jason in to speak to your organization.
• Watch how two Australians are using the Escape Plan to fight Adultitis.
Win Stuff: You can win a $20 gift certificate to the Lemonade Stand by letting us know, "What did you spend most of your time doing as a kid?" Leave a comment!
Show Music: Coyote Sleeps by Ethan Elkind
Show Length: 44 minutes, 18 seconds
Shout Outs: Thanks to Penelope Trunk and David from Colorado!