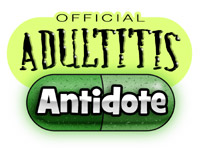 Kim and I are on a quest to find blogs that we deem to be "Adultitis Antidotes."
What exactly IS an Adultitis Antidote, you ask?
Well, when it comes to the blogosphere, an Adultitis Antidote is a blog exhibiting a childlike spirit that helps counteract the effects of Adultitis by using honesty, curiosity, passion and playfulness to encourage its readers to delight in the little things, dream big, and stress less.
We're currently on the hunt to find the best of the best when it comes to dealing with Adultitis. As of this post, we've already announced a few winners. We're not sure how many we'll find before the year is up, but we will guarantee this: the blogs that make the list will be fun, and really, really good. Rest assured, this is not just some willy nilly list of half-baked blogs.
In a related note, Jen Robinson, one of our early winners, took the opportunity to re-publish her Top 10 Reasons for Reading Children's Books as an Adult. Good stuff.
Check out the full (and regularly updated) list of winners HERE or by clicking the graphic in the sidebar.
[tags]Adultitis, adultitis antidote, best of the web[/tags]