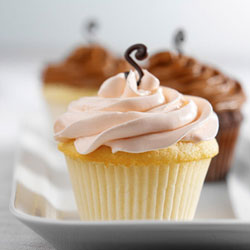 Kids are fatter these days. But here's a newsflash: it's not from eating birthday cupcakes at school.
Some adults are trying to ruin everything by banning cupcakes. Yes, cupcakes, that little bastion of evil masquerading in a facade of frosting and sprinkles. A number of schools around the country "have put the kibosh on the mini-cakes for classroom birthday and other parties, claiming they're key offenders in the growing child obesity and diabetes problems."
The Cupcake Wars have begun.
Nancy Shivers, a New York PTA representative told New York Newsday, "We all grew up having cupcakes for birthday, and it's a shame it came down to this. On the other side, if we're going to be responsible (about nutrition), we really need to start in the schools."
No. With all due respect, Ms. Shivers, we don't really need to start in the schools.
We need to start at home.
Here's the deal: kids are fatter than ever. Childhood obesity is on the rise. But as I stated earlier, it's not because of eating cupcakes at school. It's from playing video games instead of playing outside. It's from eating fast food because no one is home to cook a decent meal. It's from eating lots and lots of snacks given to them by parents who don't have the guts to say no.
So instead of pointing the finger at parents (it's never their fault), well-intentioned people want to bail them out with a ridiculous rule banning cupcakes. As if that's the magic bullet that will slim kids down. Fortunately, Assemblyman Michael Benjamin is trying to put a stop to the nonsense, at least in New York.
On one hand, I am riled up by the people idiotic enough to consider banning cupcakes. They're cupcakes! But the sad truth is, the adults who are really ruining everything are the parents who don't care enough about their kids to give them limits and teach them proper nutrition. By sitting idly by and letting their kids stuff themselves with cookies and potato chips, they are allowing obesity and diabetes to take over, and they are robbing their children of a healthy childhood. Not too mention setting them up for a lifetime of problems.
Once again, an over-reaching bureaucratic institution is trying to step in and do the job for the real bad guys, parents who are not interested in doing theirs. And like trying to catch Niagara Falls in a tiny Dixie cup, that never works.
Let's not take our problem of bad parenting out on the poor little cupcake. I agree with Linda Freda, a school official in the town of North Caldwell, New Jersey, where they decided against a ban on the sugary sensation. "They can still have a birthday party," Freda said. "We're a kindergarten through sixth-grade district. They're only kids once."
Amen, sister.
[tags]cupcakes, childhood obesity, nutrition, Michael Benjamin, bad parenting, juvenile diabetes[/tags]